Alps attack girl Zainab al-Hilli leaves French hospital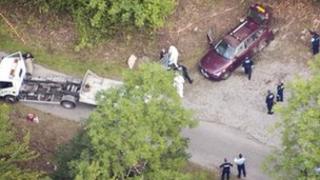 A British girl who survived a shooting in the French Alps which claimed the lives of three members of her family has left hospital to return to the UK, police say.
Zainab al-Hilli, seven, was shot in the shoulder and sustained head injuries in the attack near Annecy on 5 September.
Her engineer father Saad al-Hilli, 50, died along with his wife Iqbal, 47, his mother-in-law and a local cyclist.
Investigators had said they wanted to speak to Zainab about what she saw.
Her four-year-old sister Zeena, who hid under the skirts of their mother and grandmother following the attack, returned to the UK earlier this week.
Police in France have told news agencies that Zainab left hospital at 0815 local time after nine days of treatment.
'Severely injured'
The shooting took place near Chevaline, close to the tourist destination of Lake Annecy.
The ex-RAF pilot who first came across the scene has told the BBC of the difficult decision he made to leave Zainab bleeding on the ground while he went to seek help.
Brett Martin said one of the first things he saw was Zainab, who was stumbling around badly injured.
She appeared "severely injured" and there was "a lot of blood", he said.
Mr Martin placed her in the recovery position but faced a "dilemma" after finding his mobile phone had no reception. He said he felt Zainab's injuries would have worsened - "perhaps killed her" - if he had carried her with him.
Meanwhile, French officers have been carrying out searches at the Al-Hilli family's home in Claygate, Surrey, as they attempt to discover a motive for the killings.
Prosecutor Eric Maillaud told reporters: "Without any doubt... the reasons and causes have their origins" in the UK.
Officers working on the investigation are probing Mr al-Hilli's work as an engineer, his family connections and possible links within Iraq, where he was born.