UBS trader Kweku Adoboli 'gambled away' £1.4bn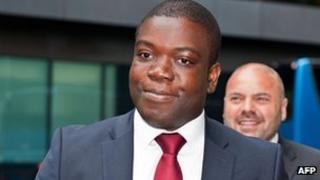 A City trader "gambled away" £1.4bn ($2.3bn) of his firm's money and caused "chaos and disaster", a jury has heard.
Kweku Adoboli, 32, of Whitechapel, east London, exceeded his trading limits at UBS in a bid to get a bigger bonus and boost his ego, the court was told.
He denies two charges each of false accounting and fraud between October 2008 and last September.
His actions are said to have threatened the Swiss bank existence and helped its share price fall 10%, by about £2.8bn.
Opening its case, the prosecution said Mr Adoboli exceeded his trading limits and invented fictitious deals to cover his tracks.
Prosecutor Sasha Wass QC said: "This colossal loss arose purely as a result of Mr Adoboli's fraudulent deal making, which amounted, as you will see, to nothing more than gambling."
Mr Adoboli had been working as a senior trader at UBS's global synthetic equities branch, buying and selling exchange traded funds, which track different types of stocks, bonds or commodities such as metals.
Ms Wass said he had been "sucked into the gambler's mindset" and "started throwing good money after bad".
The prosecutor said the trading loss was enough to pay a year's salary for nearly 70,000 new nurses, or two Wembley stadiums or six new hospitals.
Ms Wass said Mr Adoboli had "fraudulently side-stepped" the bank's rules that banned high risk and unauthorised investments.
"Mr Adoboli had ceased to act as a professional investment banker and had begun to approach his work as a naked gambler. He had become what is sometimes referred to as a rogue trader," she said.
But she said the defendant had gone beyond the behaviour of a "mere rogue trader", faking records over a two and a half year period.
'Out of control'
"He faked bookings, he created false accounts and conducted himself as a master fraudster, deliberately and systematically deceiving and defrauding the bank which was employing him," Ms Wass said.
The court heard Mr Adoboli's salary in 2010 was £110,000, with a bonus of £250,000, on the back of the perceived profits he was making.
Ms Wass said at one stage he was in danger of losing the bank nearly £7.4bn.
The prosecutor said he failed to "hedge" against failure by placing balancing trades.
It was claimed that Mr Adoboli made false entries to make it seem as if the money he was gambling had been balanced by money coming into the bank.
The prosecutor said the defendant had been trusted by his colleagues who would have had no reason to suspect what he had done, and the bank was the "victim" of his fraud.
"The bank ought not to be unduly criticised for trusting him. They respected him and he abused their trust to cheat them for his own eventual gain," she said.
"There is no system in the world that can stop a dishonest person in a position of trust abusing that trust."
Ms Wass said Mr Adoboli "was a gamble or two from destroying Switzerland's largest bank for his own benefit".
"In effect Mr Adoboli was betting the entire bank on the toss of a coin. He was a greedy banker out of control and out for himself," she said.
Ms Wass said that on 14 September Mr Adoboli left his office saying he had a doctor's appointment. Later that day he emailed his employers admitting his deceit and was arrested the next day.
The trial was adjourned until Monday.