William Hague pledges the UK will support Iraq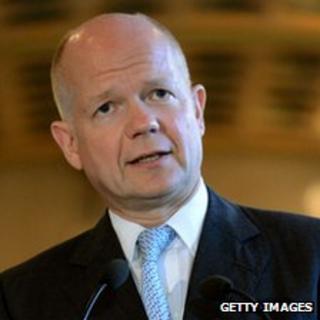 The UK will "support" Iraq on "its path to stability", William Hague has promised, after arriving in the country on his first official visit.
Speaking in Baghdad, the UK's foreign secretary vowed to "reaffirm" the relationship between the countries.
During his stay, Mr Hague will meet senior Iraqi figures, including Prime Minister Nouri Maliki and Foreign Minister Hoshiyar Zebari.
The pledge comes after a wave of renewed violence across Iraq.
Mr Hague said: "I am delighted to be in Baghdad to reaffirm the UK's long-standing relationship with Iraq, and to build on the commercial co-operation and educational links between our countries.
"I look forward to meetings with Prime Minister Maliki and Foreign Minister Zebari, in which we will talk about UK support for the political process in Iraq, and discuss how the international community can work together to bring an end to the bloodshed in Syria."
Referring to a series of killings in Iraq on 9 September, which left dozens dead and targeted security forces, Mr Hague said: "The appalling terrorist attacks earlier this week demonstrate that some in Iraq remain opposed to progress.
"I extend my deepest condolences to the families of those who were killed."
He added: "The UK will continue to support the efforts of the Iraqi government and the vast majority of the Iraqi people to advance the political process and ensure that the country continues on its path to stability."
Years of violence
Iraq has suffered an escalation of bombings and shootings during 2012 - thought to be the work of insurgents attempting to spread chaos and undermine the government of the Shia prime minister.
One of Mr Maliki's main commitments has been to try to ensure basic security for Iraqis after years of violence.
But that promise has been put increasingly to the test since all US troops finally withdrew at the end of 2011.
Concerns over sectarian conflict has also dogged the country, and the fragile government coalition between Sunnis, secularists and Shias has recently seemed in danger of collapse.
On Sunday a court passed a death sentence on Vice-President Tariq al-Hashemi, a Sunni politician who has been tried in absentia and convicted of running death squads. Mr Hashemi fled Iraq in December.
The UK lost 179 servicemen and women following the US-led invasion of Iraq in 2003. Some 136 were killed in action.
British forces peaked at 46,000 during the invasion phase and then fell away year on year to 4,100 in May 2009, when the UK formally withdrew from the country.