Hillsborough files: Reaction to release of government papers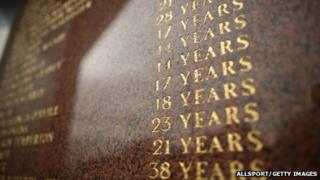 Previously unseen government papers about the 1989 Hillsborough disaster that led to the deaths of 96 football fans have been released to the public.
The report, by the Hillsborough Independent Panel, showed police and emergency services made "strenuous attempts" to deflect the blame for the disaster on to innocent fans.
In a statement to Parliament, Prime Minister David Cameron said he was "profoundly sorry" for the injustice the victims' families had faced.
The release of the documents prompted a widespread reaction, from campaigners, politicians and sporting bodies.
Campaigners and victims' families
Sheila Coleman, spokeswoman for the Hillsborough Justice Campaign: "Of course [the apology] is welcome, because it is an acknowledgement that Liverpool, the bereaved families and the fans have been telling the truth for years and yet have been considered liars. Without doubt the inquest verdicts have to be quashed. David Cameron batted this back to the attorney general. The attorney general needs to surely, with the evidence presented to him today and the evidence previously presented to him, must quash the inquest verdicts in all cases. With the clear evidence that fans could have been saved - and the evidence is there - he needs to give all of those 96 victims their right under law, the right to a fair hearing. It needs a full inquiry into how they died."
Margaret Aspinall, chairwoman of the Hillsborough Families Support Group, whose son James died: "This is what the families and the fans have been fighting for 23 years. Without the truth, you cannot grieve and where there is deceit, you get no justice."
Trevor Hicks, who lost two daughters in the disaster: "The truth is out today, justice starts tomorrow." He added that the families will pursue "any avenue" in their search for "accountability". On Thursday, he told the BBC: "Accidental death verdicts must be changed, and rogue officers must be rooted out." He insisted that if the state did not start legal proceedings, the families would do it themselves. He said it was the beginning of "another emotional journey for 41 families as we seek the medical truth".
Anne Williams, who lost her son Kevin, called for fresh inquests, saying: "They can't refuse me this time." She warned the establishment she "will never go away", adding: "I want justice for the 96."
Hillsborough Independent Panel
Panel chairman, the Bishop of Liverpool, the Right Reverend James Jones: "The documents disclosed to and analysed by the panel show that the tragedy should never have happened. There were clear operational failures in response to the disaster and in its aftermath their were strenuous attempts to deflect the blame on to the fans. The panel's detailed report shows how vulnerable victims, survivors and their families are when transparency and accountability are compromised. My colleagues and I were from the start of our work impressed by the dignified determination of the families."
Football clubs and officials
Sheffield Wednesday said in a statement on its website: "[We] would like to offer our sincere condolences and an apology to all the families who have suffered as a consequence of the tragic events of 15 April 1989. We can only hope that the publication of the Hillsborough Independent Panel report goes some way to providing the closure sought by all those involved. The thoughts of everyone at Sheffield Wednesday FC remain with the 96 Liverpool supporters who lost their lives, their families, and the wider Liverpool community who have all been affected so deeply by the disaster of 23 years ago."
Tom Werner, Liverpool FC chairman: "Today, the world has heard the real truth about what happened at Hillsborough. As a football club, we will continue to remember those who died and support the families who lost loved ones on that terrible day. We hope that today's findings will give some comfort to the families and survivors, and go some way to addressing some of the key questions that have hung over the Hillsborough tragedy for the last 23 years."
David Bernstein, chairman of the Football Association: "We are deeply sorry this tragedy occurred at a stadium the FA selected. This fixture was played in the FA's own competition, and on behalf of the Football Association I offer a full and unreserved apology." He went on: "This should never have happened, nobody should lose their lives when setting out to attend a football match, and it is a matter of extreme regret and sadness that it has taken so long for these findings to be published, and the truth to be told."
Liverpool Football Club said in a statement: "Liverpool commends the Hillsborough Independent Panel report which acknowledges the avoidable catastrophic failures before, during and after the disaster. The club also welcomes the prime minister's apology to the families and survivors on behalf of the government and await the attorney general's pending review of the report. After 23 long and painful years, our fans have finally been fully exonerated of all blame. Today, the world knows what we have always known, that Liverpool fans were not just innocent on that terrible day, but that there was reprehensible and hurtful misrepresentation of the truth. Liverpool Football Club would like to thank the Hillsborough Independent Panel for its rigorous work over the past two-and-a-half years and for publishing a comprehensive report based on the in-depth research and analysis into hundreds of thousands of documents."
Malcolm Clarke, chairman of the Footballer Supporters' Federation: "The Hillsborough Independent Panel's report is vindication for those who have spent decades fighting for justice for their fellow fans, friends, or family members. Today is their day and their reaction to the report deserves to be listened to with the greatest possible care."
Brendan Rodgers, Liverpool manager, said in a statement: "The way the fans have tirelessly campaigned for truth and justice has helped to keep Hillsborough in the public domain and helped educate people as to what really happened that fateful day. They deserve enormous credit for what has been achieved today. The victims, families and survivors are an integral part of Liverpool Football Club and always will be."
President of Fifa, Sepp Blatter tweets: "I sincerely hope the findings and the apologies bring some peace to the still-grieving families and the people of Liverpool."
Politicians
Prime Minister David Cameron said in a statement: "It is right for me today as prime minister to make a proper apology to the families of the 96 for all they have suffered over the past 23 years. Indeed the new evidence that we're presented with today makes clear, in my view, that these families have suffered a double injustice. The injustice of the appalling events, the failure of the state to protect their loved ones and the indefensible wait to get to the truth, and then the injustice of the denigration of the deceased - that they were somehow at fault for their own deaths. So on behalf of the government, and indeed our country, I am profoundly sorry for this double injustice that has been left uncorrected for so long."
Labour leader Ed Miliband said in a statement: "It shames us as a country that it has taken 23 years to get to the truth of what happened at Hillsborough. The prime minister was right to offer an unreserved apology, but all governments during this period bear their share of responsibility for the failure to get to the truth, so we on this side also apologise to the families that we didn't do enough to help."
Labour MP for Leigh, Andy Burnham: "I thank the prime minister for every single word of his statement today. Their value in Liverpool simply cannot be calculated. It comes far too late for many, of course, but finally the full horror of Hillsborough has been revealed - a catalogue of negligence, appalling failure and sheer mendacity; a tragedy that should have been prevented; lives that should have been saved." Speaking later at the Liverpool vigil for the victims on Wednesday night, Mr Burnham added: "Tonight I am struggling to comprehend how the government could let an injustice like this stand for so long... I will never be able to accept or allow a verdict of accidental death to remain on the record. We need a new inquest."
Alison McGovern, Labour MP for Wirral: "Today we come together to receive the truth, so can I thank the prime minister for his apology. Will he join with me in hoping that all those that still suffer find some relief today, that all those who've lied and worsened that suffering feel shame in their heart and that they say sorry too."
Mayor of Liverpool Joe Anderson: "It is absolutely clear for everyone to see that those affected were victims not only of a terrible event, but also of an unforgivable miscarriage of justice. They were aided and abetted by some sections of the media, who should now apologise for misleading the nation and smearing the reputation of Liverpool FC fans and the city. It is to the credit of families that they have never given up on their quest to find out what happened on that dreadful day. Now that we finally have the truth of what happened in 1989, we must make sure the families get the justice they deserve."
Sir Irvine Patnick, then MP for Sheffield Hallam and one of the sources behind false reports - infamously published by the Sun - of drunken and violent fans, said: "I'd like to put on record how appalled and shocked I was to discover the extent of deceit and cover-up surrounding these events. It is now clear that the information I received from some police officers at the time was wholly inaccurate, misleading and plain wrong. However, I totally accept responsibility for passing on such information without asking further questions. So many years after this tragic event I am deeply and sincerely sorry for the part I played in adding to the pain and suffering of the victims' families."
Liverpool Walton Labour MP Steve Rotheram: "Finally, we have the undeniable truth. The truth that many innocent people could, and should have been saved. A truth that unequivocally confirms that Liverpool fans were not the cause of the disaster and that drink was not a significant factor."
Former Labour sports minister Richard Caborn, and former MP for Sheffield Central, said: "I hope that now the truth is out, that will help people to grieve knowing exactly what happened. It is really sad it has taken so long to get this information into the public domain."
Clive Betts MP, former leader of Sheffield City Council: "I was present at Hillsborough on that day. I was also leader of Sheffield City Council at that time. I think therefore it is relevant if I reiterate the unreserved apology on behalf of the city council for its failings in this terrible tragedy. I released all my personal papers and documents to the panel. I'm sure you will join me in paying great credit to Ken Sutton and the support team to the panel, for the very helpful and professional way they have gone about their business, which has greatly contributed to the production of this very detailed and comprehensive report."
Deputy Prime Minister Nick Clegg, MP for Sheffield Hallam: "This is full vindication for the families of the 96 people who died at Hillsborough. On every single count they've been proved right. The response to the disaster, the way it was looked into afterwards and the way in which the inquiries were held were not right. And, crucially, the reputations of their loved ones who died were systemically being defamed and trashed by people who were trying to cover up what really happened. Now it is time for the wheels of justice to start moving, because the truth has been withheld from families and victims for too long."
Former cabinet minister Lord Falconer, who is advising the victims' families: "There's got to be a proper investigation because what we got... was a report. What the authorities need to do now is to set up a proper investigation into, first of all, whether was there such gross negligence as to justify a charge of manslaughter, and I think they would need to be looking at the South Yorkshire police, Sheffield Wednesday football club primarily. Then, secondly, and separately, there needs to be a consideration of whether or not there was a conspiracy to pervert the course of justice."
Former Home Secretary Jack Straw: "The Thatcher government - because they needed the police to be a partisan force, particularly for the miners strike and other industrial troubles - created a culture of impunity in the police service. They really were immune from outside influences and they thought they could rule the roost and that is what we absolutely saw in South Yorkshire."
Responding to Mr Straw's comments, Lord Tebbitt, one of Mrs Thatcher's closest political allies, dismissed the remarks as "very, very silly". Another former cabinet minister, David Mellor, said Mr Straw's remarks were "wrong" and "disappointing".
London Mayor Boris Johnson said he was "very, very sorry" for comments made in a 2004 Spectator article about Liverpool fans involved in the Hillsborough disaster. "I apologised then and I apologise now. I do hope the families of the 96 victims will take some comfort from this report and that they can reach some sort of closure."
Journalists
Dominic Mohan, editor of the Sun, said in a video message: "Twenty-three years ago the Sun newspaper made a terrible mistake. We published an inaccurate and offensive story about the events at Hillsborough. We said it was the truth - it wasn't. It's a version of events that 23 years ago the Sun went along with, and for that we're deeply ashamed and profoundly sorry."
Kelvin MacKenzie, former editor of the Sun: "Today I offer my profuse apologies to the people of Liverpool for that headline. I too was totally misled. Twenty-three years ago I was handed a piece of copy from a reputable news agency in Sheffield, in which a senior police officer and a senior local MP were making serious allegations against fans in the stadium. I had absolutely no reason to believe that these authority figures would lie and deceive over such a disaster. As the prime minister has made clear, these allegations were wholly untrue and were part of a concerted plot by police officers to discredit the supporters thereby shifting the blame for the tragedy from themselves. It has taken more than two decades, 400,000 documents and a two-year inquiry to discover to my horror that it would have been far more accurate had I written the headline The Lies rather than The Truth. I published in good faith and I am sorry that it was so wrong."
Chris Bascombe, Daily Telegraph football reporter writes: "Today, the first time in 23 years, the names on the shrine are recognised by the whole country as what they have always been - the innocent victims of English football's worst disaster."
Daily Telegraph sports correspondent Henry Winter tweets: "Families vindicated. Fans exonerated. Police shamed. High Court must order a new - and this time truthful - inquest into Hillsborough."
Glen Oglaza, Sky News political editor, tweets: "It's very emotional in the House of Commons. Many MPs, esp from Merseyside, have lumps in throats & tears in their eyes #hillsborough."
Times columnist Carol Midgley tweets: "In awe that Hillsborough families so dignified all these years in the face of vilest slander."
Police
Chief Constable David Crompton, South Yorkshire Police: "On 15 April 1989, 96 of the Liverpool fans went to Hillsborough to watch the FA Cup semi-final and died as a result of the disaster. On that day South Yorkshire Police failed the victims and families. The police lost control. In the immediate aftermath senior officers sought to change the record of events. Disgraceful lies were told which blamed the Liverpool fans for the disaster. Statements were altered which sought to minimise police blame. These actions have caused untold pain and distress for over 23 years. I am profoundly sorry for the way the force failed on 15 April 1989 and I am doubly sorry for the injustice that followed and I apologise to the families of the 96 and Liverpool fans. South Yorkshire Police is a very different place in 2012 from what it was 23 years ago and we will be fully open and transparent in helping to find answers to the questions posed by the panel today." He later told BBC Newsnight: "My position is a very simple and straightforward one, which is that if people have broken the law then they should be prosecuted. It doesn't make any difference whether they're a police officer or anybody else."
Richard Wells, former chief constable of South Yorkshire Police: "I'm... very disappointed and angry at the way failings in my chosen profession for 36 years have been revealed, and of course I played a part in that. I deeply regret that and of course I must be held to account with everybody else."
Sir Norman Bettison, the most senior serving police officer involved with South Yorkshire Police's Hillsborough operation, said in a statement: "I really welcome the disclosure of all the facts that can be known about the Hillsborough tragedy because I have absolutely nothing to hide. I read the 395-page report from cover to cover last night and that remains my position. The panel, in my view, has produced a piece of work that will stand the test of time and scrutiny."
Deborah Glass, deputy chairwoman of the Independent Police Complaints Commission: "The detailed and rigorous report of the Hillsborough panel into the tragic deaths of 96 people raises extremely serious and troubling issues for the police. We are reviewing the panel's report and we are aware that South Yorkshire Police are also carrying out a detailed assessment of the report, with a view to making a referral to the IPCC."
Footballers
Manchester United footballer Wayne Rooney, who was born in Liverpool, tweets: "Everyone involved in the cover up of Hillsborough is a disgrace and need punished."
Liverpool captain Steven Gerrard, whose 10-year-old cousin Jon-Paul Gilhooley died at Hillsborough: "The courage and dignity shown by the Hillsborough families and survivors is an example to all of us. For 23 years they have fought for truth and justice on behalf of the victims and survivors of this terrible tragedy and all Liverpool supporters. Victims and survivors suffered not just on 15 April, 1989 in Sheffield, but for over two decades afterwards with the shameful slandering of their actions by people who abused their position and power. Speaking as someone whose family directly suffered, I know the pain and hurt will remain. However, I hope that today's report helps bring some comfort, now that everyone knows what happened on that day."
Liverpool footballer Jamie Carragher said in a statement:"It is an emotional day and everyone will have different emotions - some people will be really happy at how it's come out, and some people may still be angry about it and that is understandable as this has been covered up for 23 years. As a football club I think we're all pleased for the families and the people who have been fighting for this for so long."
Kenny Dalglish, former Liverpool manager, who was in charge of the side at the time of the disaster, tweets: "Very positive outcome. 23 yrs waiting for the truth next step justice."
Merseyside-born midfielder Joey Barton, in a series of tweets: "Just sat alone, read the report and cried my eyes out. I dont know how anyone could do this to innocent people. Its wrong on so many levels. Everyone that signed the epetition. Anyone that ever voiced doubts over what the media told them or stood for the 96 and their families... Should be proud of themselves today. Be proud of what YOU have forced the government to do. Well done all involved. @HJC_Official #JFT96."
Former Liverpool footballer Michael Owen tweets: "Finally and 23 years too late, the truth about Hillsborough finally came out today. Now is the time for Justice. #JFT96"
Former Liverpool midfielder John Barnes said the club's fans had finally been "vindicated".