Briton due to face Indonesian drug smuggling trial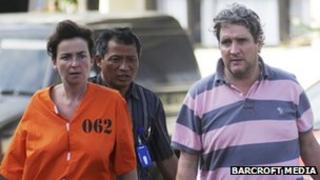 The trial of a British man charged with drug offences in Indonesia is to begin on Monday, prosecutors say.
Paul Beales and three others were held in May by Bali police over alleged trafficking of cocaine worth £1.6m.
The others - Julian Ponder, Rachel Dougall and Lindsay Sandiford - are expected to go on trial within weeks.
Mrs Sandiford, 55, originally from Teesside, was allegedly caught with 4.8kg of cocaine stuffed inside the lining of a suitcase.
Prosecutors received the case files for all four defendants in recent days, which was an indication that trials were imminent.
Mr Beales faces a charge of selling or facilitating the sale of more than 5g of drugs - a charge punishable by death.
Mrs Sandiford and Mr Ponder also face that charge, while Ms Dougall has been accused of failing to report the crime of possessing drugs and of drug possession.
Ms Dougall and Mr Ponder are believed to be a couple from Brighton with a young daughter.