Newspaper review: More reflections on Murray win served up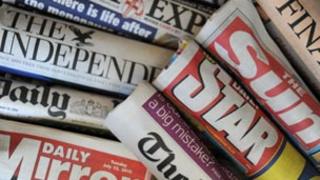 It may be more than 24 hours since Andy Murray won the US Open, but for the print versions of the papers today is their first proper bite at the story.
The Times says the champion celebrated his victory with Hobnobs and Irn-Bru at the British Consul-General's residence in New York.
Both the Daily Mirror and the Daily Star suggest the 25-year-old will cap a memorable summer, during which he won Olympic gold and reached the final of Wimbledon, by proposing to his long-time girlfriend, Kim Sears.
The Sun believes Murray won the final by giving himself a pep talk during a toilet break after Novak Djokovic had levelled the match at two sets all.
A Matt cartoon in the Daily Telegraph shows a man reading about Murray's triumph and being asked by his young son: "Tell me about the good old days when we didn't win anything."
On the day an independent panel delivers the findings of an exhaustive investigation into the Hillsborough football disaster, the Daily Mail says David Cameron will issue an apology to the families of the Liverpool fans who died.
The Independent claims that in the aftermath of the 1989 tragedy South Yorkshire Police doctored evidence.
The paper says it has seen four unpublished witness statement from officers on duty at the match.
After the TUC backed a call for a general strike, The Times says the prime minister wants troops to be deployed as "strike-breakers".
It follows the Army's success in filling in for G4S staff and helping to provide security at the Olympics.
The Financial Times and The Guardian suggest the chancellor could use his autumn statement to abandon his chief fiscal target for this parliament.
The FT says if the Office for Budget Responsibility concludes George Osborne has less than an even chance of hitting his debt reduction target by 2016, he will face a stark choice.
He will either have to impose deeper spending cuts - which would be politically unpopular - or allow that target to slip beyond the next election.