So you want to be a police and crime commissioner...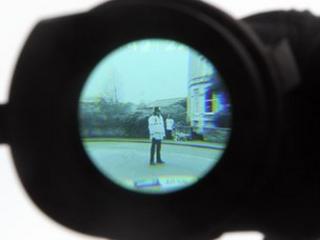 "If I were standing, I'd pledge to clean up the dog poo and Taser groups of three or more teenagers on sight," quipped the world-weary member of a police authority I met at a conference.
"I'd be a shoo-in. They'd all vote for me because these elections are about what's popular - not necessarily what is right."
He was being deliberately absurd - but the point behind it gets right to the heart of the biggest shake-up in British policing for decades: Your vote may redefine how the police keep your community safe.
In just a few weeks' time, 41 individuals will become police and crime commissioners after pitching their vision for cleaning up the streets of England and Wales.
The chief constable of each of these forces will no longer be answerable to the home secretary, but to their PCC who, in turn, will be answerable to the electorate when the elections come around again.
Many police chiefs are so nervous about the impending changes they'd be dialling 999 if they knew of an emergency service that could stop it all. But they can't - so what exactly are they going to have to learn to live with?
For almost half a century, police in England and Wales exercised their powers under the "tripartite" relationship - a balancing of powers between:
chief constables
the home secretary, and
local police authorities.
In short, the home secretary set general priorities and targets and chiefs delivered, under the watch of the local police authority.
By dawn on 16 November, that will be gone. Police authorities, long derided as invisible will be replaced by elected police and crime commissioners. The Whitehall targets on how to fight crime will be replaced by a political mandate from the local electorate.
The PCC will be responsible for hiring - and potentially firing - the chief constable. He or she will set the policing budget and could increase the amount raised locally.
They'll be responsible for services for victims - and also manage grants for crime reduction and community safety.
Each PCC will set a budget and a strategy that the chief constable will be expected to deliver. There will be some local scrutiny of PCC work - but the panel has limited powers to intervene.
Manifestos and machinations
How will all of this work in practice? Well, we don't quite know yet - and that's why the police are nervous. They fear that many candidates who can deliver a good sound bite won't have a clue about the delicate and difficult world of modern policing.
There are predictions that decisions will be influenced by party concerns and that the careers of some of the brightest and best police officers will depend on how they get on with their political boss.
The government believes it has all of this covered. While PCCs will focus on delivering their manifesto, they cannot tell the chief constables what to do. Senior police will remain in operational command, deciding how many officers go where, to do what. PCCs will also be obliged to take an oath of impartiality, a public act declaring that they will be above party politics.
Ministers want the incoming PCCs to focus on two tasks: cutting crime and improving public confidence, because that's what the public will judge them on when election day comes again.
But that, say critics, is where the problems start - and it comes back to our cynical police authority chap.
Ipsos Mori, the polling agency, says that concern about local crime has steadily fallen while there has been also been growing confidence in the police.
It says the polling data shows people want their voices to be heard and a policing response that is visible and reassuring.
The maths behind that data, say critics, would tempt many a PCC to run simple strategy focused on neighbourhood policing. Vote for me for a war on hoodies.
From local to international
But what about the bigger picture? The local drugs squad know who the dealers are. They know the kids who courier the goods on their BMXs - the same kids who will soon be using the drugs and burgling the expensive homes on the other side of town.
Those officers also work with detectives in neighbouring forces to target the regional sellers. And their chiefs want to work with the National Crime Agency to take down the major gangs who are the global market-makers in crime - the gangs organising the theft of flash cars from our cities or the mass electronic harvesting of credit card numbers. By the way, they may be the same gangs who are supplying more drugs and poor immigrant girls into the British brothels.
All of that is a harder story to tell - and to sell to voters - because it's so much less visible.
Ministers hope they have dealt with this in the legislation. The PCCs must "have regard" to national policing requirements. That means that a commissioner won't be able to ignore legitimate demands to co-operate with other forces on tackling serious crime - or to assist in more prosaic ways, such as to provide officers to quell riots.
So after the tub-thumping at election time, an awful lot of this job for those who do get elected will be about hard negotiation in the boardroom between PCCs and chief constables over what is right for local people - but also for national policing.
This balancing act has always been a major challenge in policing - the question is whether the arrival of PCCs will make it more of a public debate.
And that brings us to a final very important responsibility for the first wave of PCCs. Many candidates rightly fear indifference and public confusion.
The Electoral Reform Society has predicted a low turn-out while the Electoral Commission has its own concerns, including over the Home Office's planned advertising campaign.
The prize for the first term may not just be to make your police more accountable - but to convince you to vote at all the next time PCCs come canvassing.