Soldier killed in Afghanistan patrol blast named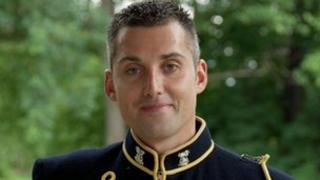 A soldier from The Light Dragoons killed in Afghanistan on Sunday has been named as Sgt Lee Davidson.
The father-of-two, 32, from Doncaster in South Yorkshire, died after his armoured vehicle hit a roadside bomb in the Nahr-e Saraj district of Helmand.
His wife Samantha, who is expecting a baby daughter, described him as "the best husband and father".
His death took the number of British military deaths since operations began in Afghanistan in 2001 to 427.
The Ministry of Defence said he had been helping to train Afghan police officers, and this was his second tour of duty in the country.
In a statement, the MoD said Sgt Davidson had been on patrol when the vehicle he was travelling in hit an improvised explosive device, which fatally wounded him.
His first job was as a pavement re-surfacer, but he joined the Army in August 1998. He had previously deployed on operational tours to Bosnia and Iraq.
'Superb soldier'
His wife Samantha said: "My gorgeous husband Lee, we all can't believe you have gone. You really are the total package: good looking, kind, loving, generous and the best dad I have ever known.
"Your memories we had together will be treasured in my mind and heart forever, your children will grow up knowing all this about you. You will never be forgotten."
The commanding officer of the Light Dragoons, Lt Col Sam Plant, said Sgt Davidson was "a simply superb soldier and a wonderful man".
"He was the most natural leader of men and soldiers flourished under his command," he said. "He set the perfect tone and example, and cared deeply for his soldiers' welfare. He was, and always will be, an inspiration to so many."
Sgt Davidson originally deployed on this tour of duty as a vehicle commander, but in June he was selected and trained to become the second-in-command of a Police Advisory Team in Helmand.
'Great bloke'
This new role involved helping the Afghan police to plan operations, which often involved capturing narcotics and detaining insurgents.
Further tributes were paid by officers who had been serving alongside Sgt Davidson.
Lt Ed Whitten, Troop Leader of the Police Advisory Team, said: "He was a great bloke, a great leader and a great soldier.
"Our thoughts are with his family whom he talked about endlessly, particularly his wife Samantha and two young boys. His example and enthusiasm will be remembered by all, and will keep our troop going until we all go home."