Newspaper review: Olympics and Paralympics finale dominates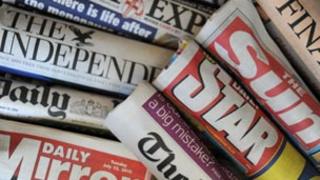 The end of a summer dominated by the Olympics and Paralympics is lamented in a number of Monday's papers.
"Goodbye to Britain's golden summer" is the Guardian's headline.
It says the past six weeks have been "a season of wonder" in which we looked in the mirror and were met by a reflection we "rather liked".
The Sun says the Games brought out the best in the UK.
And, writing in the Daily Telegraph, London Mayor Boris Johnson says the Paralympic Games showed that Britain remains a beacon of enlightenment.
Every front page has a spectacular picture from the closing ceremony of the Paralympics.
The Independent says that, "without risk of hyperbole", we can surely say that the Games, taken together, have helped this country to see itself in a new and better light.
And the Times quotes Shakespeare's play The Tempest to capture the positive mood of the Games.
It says: "O, Wonder! How many goodly creatures are there here!"
Away from London 2012, the Times, Daily Telegraph and Guardian all report that the Taliban is prepared to disown al-Qaeda.
They say it is prepared to agree a ceasefire and even allow some US military bases to remain in Afghanistan in exchange for political recognition.
The views are based on interviews with four senior Taliban figures and are published in a report by the Royal United Services Institute.
The Daily Mail reports that the TUC is threatening the first general strike for 86 years.
However, the Daily Express says a proposed day of action against austerity is likely to be a "damp squib".
Meanwhile, the Daily Express has a front page headline that reads: "80 mile an hour gales to hit Britain".
The paper says tropical storm Leslie will meet Hurricane Michael in the Atlantic in the next 48 hours and send a "perfect storm" towards Britain to sweep away "our glorious Indian summer".
The Daily Mirror asks: "Did you enjoy the weekend sizzler?"
Well, the paper says, it is time to pack away your flip-flops because "summer's over".