Bob Stewart was 'asked to challenge David Cameron'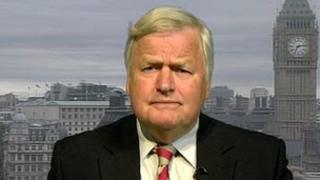 A Conservative MP has said he was asked to mount a leadership bid against Prime Minister David Cameron.
Colonel Bob Stewart said two party colleagues approached him before the summer break and asked him to consider a "stalking horse" challenge.
He refused to say who spoke to him and said he told them to "get lost", describing the idea as "silly".
It comes as Boris Johnson's office confirmed the Mayor of London discussed plans to stand in a by-election.
BBC political correspondent Robin Brant said Mr Johnson was "a more serious leadership contender".
The London mayor is understood to have discussed the idea of standing in a by-election as part of a bid to fight plans to expand Heathrow Airport.
Mr Johnson met his fellow Conservative, Richmond Park MP Zac Goldsmith, last week.
Both are strongly opposed to plans to expand Heathrow.
Last week ministers said the final decision on UK airport expansion will be taken by the next government.
A statement from the mayor's office confirmed that Mr Johnson and Mr Goldsmith discussed the idea of the latter resigning in protest and London's mayor running in his place.
However, aides said no offer was made and the idea was "laughingly dismissed out of hand" by both men.
Last week the government said a commission chaired by ex-Financial Services Authority boss Sir Howard Davies to examine ways to expand airport capacity will report in 2015.
Options include a third runway at Heathrow and a new four-runway facility in the Thames estuary. The latter option is backed by Mr Johnson.
'Prelude to U-turn'
Official coalition policy is still to be opposed to Heathrow expansion but some leading Tories are now calling for a third runway.
In a statement issued on Saturday, Mr Johnson's spokesman said: "It's no secret the mayor opposes the building of a third runway, he was re-elected opposing any such notion, he'll continue to oppose any such notion, and he'll be doing it as mayor of London."
Mr Johnson has also criticised the prime minister's decision to remove transport secretary Justine Greening from her post in a recent reshuffle, which the mayor claimed was a prelude to a U-turn on a third runway.
Ms Greening's successor, Patrick McLoughlin, has said the Davies commission would identify and recommend to government "options for maintaining this country's status as an international hub for aviation".