Newspaper review: France shooting leaves papers baffled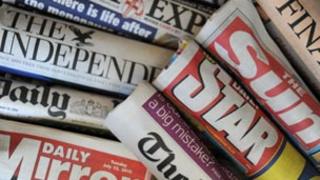 The murders of members of a British family in the French Alps is the lead story in a number of Saturday's papers.
In its headline, the Daily Mail asks: "Who will care for massacre orphans?"
The paper worries that no family member has come forward to look after the two surviving daughters of Saad and Iqbal al-Hilli.
The Guardian says British experts are surprised the four-year-old girl found after eight hours has not yet been reunited with a relative or family friend.
The publication of an independent report on the Hillsborough football disaster next week is widely covered.
The Independent says what happened on that afternoon in April 1989 remains an open wound for the people of Liverpool, but answers might now start to emerge.
The Guardian expects the report to expose failures by South Yorkshire Police and other public bodies.
The Daily Mirror urges David Cameron to apologise to families of victims for what it calls an "official cover-up".
Coverage of Prince Harry's deployment to Afghanistan is accompanied by reminders of his recent Las Vegas trip.
"Harry gets his kit on - to go to war," says the Daily Mail.
Meanwhile, the Daily Express says Harry has swapped the louche luxuries of Las Vegas hotels for the cramped quarters of an officer on active service.
But the Times says now that Prince Harry is on the front line, criticism of his behaviour on holiday will seem ill-placed and irrelevant.
President Obama's speech at the Democratic National Convention is disappointing for the Financial Times.
It says he did offer some trademark flourishes, but they could not make up for the lack of substance.
Meanwhile, in the Independent's view, Mr Obama's address was not one that will live in the memory.
For the Guardian, he turned in a speech which, by his high standards, was notably workmanlike.