London Paralympics: What next for 2012 Games Makers?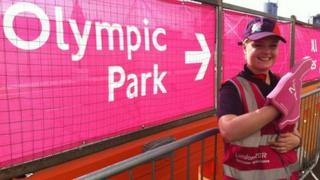 They have become synonymous with the London 2012 Games, but the purple Games Maker uniforms will soon be disappearing from the city's streets.
No more pink foam-handed high-fives for the children; no more cheerily megaphoned messages to queues at venues; no more high-chair jollity outside Tube stations.
For the 70,000 volunteers who have been key to the smooth running of London 2012, the finishing line is in sight.
Fifty thousand people at the Olympics and 20,000 at the Paralympics have worked eight million volunteer hours throughout the summer after being whittled down from 250,000 applicants and going through a million hours of training for their 800 different roles.
Some travelled long distances to take up the work, many dossed down on friends' sofas or in campsites - all in return for long hours and an outfit most politely described as eye-catching.
Are their volunteering days over?
Volunteering debutante Rebecca said she put her name forward for social reasons - to meet new people in London - and that she had had a great time.
Too bashful to give her surname, the 28-year-old civil servant from Manchester was working at Mascot House, dishing out smiles as readily as information and manning arts and crafts stations for children inside the interactive play area.
"It's amazing to see how many people will give something for nothing, for a very small meal and a uniform they'll probably never wear again," she said.
"It's made me think I could give a bit more back."
Although she said she wouldn't take part in anything as "grandiose" as London 2012 again, Rebecca said she had already researched volunteering options online - perhaps shopping for older people or offering them companionship.
"That would be pretty awesome, give something back and feel good about myself."
Electric atmosphere
Helen Anderson, 21, from Colchester has spent the Paralympics steering the crowds heading from Stratford station to the Olympic Park.
Armed with little more than her purple uniform and pink foam hand, that translates as thousands of high-fives for passing children, but she wasn't complaining.
"I just want to be able to say I was there and helped make it happen," she said. "It's just buzzing - it's electric!"
Miss Anderson has just graduated with a first class degree from King's College London and first volunteered for the Royal Geographical Society, promoting geography as a GCSE subject to school pupils.
With her appetite for volunteering whetted by London 2012, she has her sights set on Rio, having heard the 2016 organisers are on the hunt for experienced Games Makers.
Meeting Usain Bolt
"There's been a really big party atmosphere here, but I can't imagine what that would be like in Rio with a carnival atmosphere."
Chiropractor Aidan Robinson, 39, described working at the Athletes' Village policlinic as the most uplifting 10 days of his life.
One highlight was treating an injured shot-putter who then went on to throw five centimetres beyond his personal best.
"Back home in Doncaster I'm getting patients who are saying their children are actively looking to get involved in sport," he said.
"I'm going to promote the fact I've worked at the Paralympics not just because it's good for business, but because I can say to people 'I've seen people who have the same problem and if you have the support, you can achieve what you want to achieve.'"
Sam Haslam, a young Special Olympics GB swimmer who has Down's syndrome, said it was "really cool" to be part of the London 2012 transport operation.
His job has involved opening a car door for the prime minister and meeting athletes like Usain Bolt - experiences that have kept him positive despite his 4am starts.
"I liked the London experience and being in the same uniform as everyone else," he said.
London 2012 Chairman Lord Coe said this week the volunteers had cultivated one of the country's biggest fan clubs.
His reference to them at the Olympic closing ceremony drew one of the most sustained ovations of the night.
He urged them this week to become part of London 2012's legacy by taking up volunteer work at home.
"What is the most important thing that you can give to a sports club or society? It is that crucial asset of your time and expertise.
"If you've come through this process and like what you've seen and you like working with people and helping people, go to your local athletics club and find out if there is a role or a responsibility.
"If that athletics club is halfway sensible they will drag you in."
Mayor of London Boris Johnson has also praised the 8,000 Team London ambassadors who have spent 200,000 hours dealing with tens of thousands of daily queries across the city.
"Our fantastic volunteers are one of the greatest success stories of this remarkable summer, and deserve as many plaudits as our heroic athletes for their efforts in making London 2012 the best Games in history," said Mr Johnson.
All the London ambassadors and 9,000 Games Makers have been invited to attend Monday's victory parade by TeamGB and ParalympicsGB athletes.
Last month the government launched a Locog-backed initiative - the Join In Trust - to promote volunteering in the local community.
Volunteering was vital in helping to improve neighbourhoods, said Mr Johnson, urging London members of the pink and purple army to harness the volunteering spirit by signing up to his Team London initiative.
A poll by the London mayor's office suggested 99% of those surveyed said the ambassadors were polite, friendly and a good way to welcome visitors to the city.
Such warm praise has played into a positive cycle: The more volunteers have been lauded, the more they have positively glowed with enthusiasm as they perform the most menial task.
"Are you happy? Are you having fun?" one purple-clad sylph whispered into a megaphone as a horde of weary spectators trudged towards Stratford station late one evening.
"I am! I could stay here all night!"