Paralympics tickets raise £10m more than predicted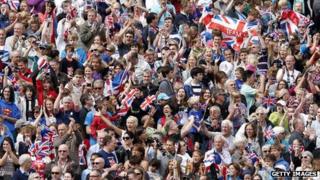 Some 2.7 million Paralympic tickets have been sold - beating targets by 200,000 and predicted sales by £10m.
Paul Deighton, chief executive of organiser Locog, said sales would bring in about £45m, showing the Games "more than washes its face" commercially.
He said high demand had prompted the release of 100,000 Park-only tickets and 100,000 contingency tickets.
On Thursday afternoon the only tickets available on London 2012's website were for Sunday's closing ceremony.
The seats for the event, headlined by Coldplay, cost between £250 and £350.
But organisers said a few thousand more contingency tickets - such as multi-sport day passes for events at the ExCel - would be released in the next two days.
Any event tickets returned by stakeholders, such as sponsors and international media, would also be put on public sale, added a Locog spokesman.
"We are heading towards a sell out, but we are still committed to making available as many tickets as possible to the public and this will continue right up until the close of the Games," he told the BBC.
Mr Deighton rejected the claim that the success of Paralympic ticket sales was down to any failing of the ticketing process for the Olympics.
All the ticketing problems faced by Locog were the result of absolutely extraordinary demand against an inevitably limited supply of tickets that would inevitably lead to disappointment, he added.
Family-friendly
Wednesday saw 230,000 people attend the Paralympics, with 175,000 in the Olympic Park and 28,000 at the ExCel centre, and the four millionth London 2012 spectator was expected later on Thursday, said Locog.
"The interest in attending the Paralympics has been extraordinary from the start," said Mr Deighton, who was appointed Commercial Secretary to the Treasury in this week's government reshuffle.
"The fact that there are people who would like to pay for a ticket and they can't because they've already been sold is a new phenomenon so we're delighted with that success… The Paralympics Games more than washes its face."
An affordably-priced ticketing strategy had resulted in "extraordinary atmospheres" as families in large groups could enjoy a day out in the Olympic Park, said the former investment banker.
Half of the Paralympic tickets were priced at £10 or less, three-quarters at £20 or less and 95% at £50 or less.
Olympic Park day passes, providing access to most of the sporting arenas, cost £10 - or just £5 for children and pensioners - and passes only admitting people to the Park without being able to watch any sport were £5 (£1 concessions).
Some 90,000 tickets paid for by hospitality partners were distributed to schools.
"It's been a great way of many people coming to enjoy both Paralympic sport and also see the wonderful venues that we've had available this summer," said Mr Deighton.
Paralympic progress
The ticket-sale success showed how far the Paralympics had come in the past 20 years, when tickets for events at the Barcelona 1992 Games were free, said International Paralympic Committee CEO Xavier Gonzalez.
Even at the Beijing Paralympics, which were attended by 3.4 million people, only 1.8 million tickets were sold, he added: Some 1.6 million were given out by the Chinese government as part of a scheme to give disabled people more access to Paralympic sport.
The raised profile of the Paralympics generated by London 2012's media coverage set a great momentum for Rio to build on in 2016, added Mr Gonzalez.
"The victory of Brazilian Alan Oliveira basically knocked out all football news in Brazil… that's a pretty big deal."
Media coverage had gradually transformed to focus more on the athleticism of the athletes, he said, giving them increased popularity, although he accpeted more could be done to improve the profile of Paralympic sport.
It was critical between now and Rio 2016, momentum continued with maximised coverage of Paralympic world and regional championships in the next four years, he added.
He rejected claims Rio was badly-placed to deliver a successful Paralympics.
"Brazil has one of the strongest national Paralympic committees; Brazil hosted the Para-Pan-American Games very successfully in 2007," said Mr Gonzalez.