Families want pathologist Freddy Patel public inquiry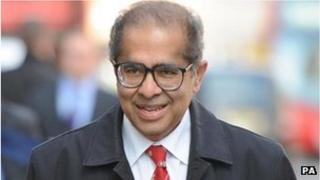 Four families are calling for a public inquiry into pathologist Freddy Patel, who was struck off following the death of newspaper seller Ian Tomlinson.
Mr Tomlinson died after being pushed and struck by a police officer in 2009.
The Tomlinson family, and three other families, say Mr Patel made significant mistakes when doing post-mortem examinations of their relatives.
In July PC Simon Harwood, who argued he used reasonable force, was cleared of the manslaughter of Mr Tomlinson.
Mr Patel initially said Mr Tomlinson had died of cardiac arrest but, after a video emerged of him having been struck by a baton, a second post-mortem examination was performed and it emerged he had died of internal injuries.
At his Medical Practitioners Tribunal Service (MPTS) hearing last month it emerged Mr Patel had also made errors in at least three other cases.
One was that of 31-year-old prostitute Sally White, who he said had died in 2002 from "natural causes" despite her having injuries including a bite mark and a head wound.
Her naked body was found in a flat in Camden, north London. There were bloodstains on her clothes and the bed, as well as the wall of the room in which she was found.
The flat was owned by Anthony Hardy - a serial killer known as the Camden Ripper - who went on to kill two more victims after police took no action against him regarding Miss White.
Last year Mr Patel was given a four-month ban for dishonesty and omitting key findings in the Sally White case.
'Wrong body'
Daniel Abrey, 22, was found dead in his bed in 2005 but his mother, Hilary, says she is convinced the body Mr Patel examined was not even her son's.
She says Mr Patel recorded her son as being 5ft 4in (1.52m) tall and "well nourished" when he was in fact 6ft tall (1.82m) and was very thin.
Mrs Abrey told BBC Radio 4's Today programme: "The job of the coroner is to say who, when and what... well they certainly didn't do it in this case because I don't know if it was my son that they carried out a post mortem on."
The Reverend Robert Lloyd-Richards, who chaired the MPTS panel, said Mr Patel had an "unwarranted confidence" in his ability, "a deep-seated attitudinal problem" and also "lacked insight".
Mr Patel qualified at the University of Zambia in 1974 and practised as a pathologist for 35 years.
The chief executive of the General Medical Council, Niall Dickson, reassured people Mr Patel will not be able to practise again, and said regulations were being tightened.
He said: "We are obviously pleased that we've removed this doctor from the register; he won't be able to practise in this country nor will he be able to practise around the world because we've alerted other regulators all round the world to the fact that we've taken his licence away.
"We're introducing from next year a requirement on all doctors that they're subjected to regular checks which demonstrate that they're competent and fit to practise.
"There are certainly aspects of Dr Patel's practice over the years which absolutely marry the kind of things that we're wanting checked on a regular basis by employers," Mr Dickson added.
Mr Patel is not the first pathologist to have been struck off due to complaints about quality of post-mortem examinations.