Relatives call for Patel inquiry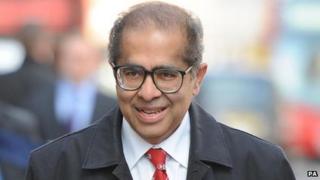 A group of families is calling for public inquiry into the controversial pathologist Dr Freddy Patel. At least four families claim Dr Patel mishandled the post mortem examinations of their loved ones and say that a review of Patel's case is the only way to restore confidence to the pathologists and coroners system.
The General Medical Council (GMC) erased Dr Patel from the Medical Register last month for a series of bungled post mortems, including that of the newspaper vendor Ian Tomlinson at the G20 protests in April 2009. The GMC found that Dr Patel had made no fewer than 68 mistakes in that post mortem.
The families interviewed by Today say their case for an inquiry has been reinforced by the criticisms of Dr Patel by the GMC's tribunal panel. The GMC concluded that Dr Patel was 'dishonest'; that he 'lacked insight' and had a "rigid mid-set", "a deep-seated attitudinal problem" and an "unwarranted belief" in his own abilities.
One of the relatives we have spoken to is Mrs Hilary Abrey, whose son Daniel died in 2005. She says she will never know the true cause of his death because she is convinced Dr Patel conducted the post mortem on a much older shorter man. She says, "the job of the coroner is to say 'who, when and what'. That's all they are tasked to do. But they certainly didn't do it in this case because I don't know if it was my son on whom they carried out the post mortem."
The post mortem report stated that Daniel Abrey, aged 22 at the time of death, was 5ft 4in, despite his family's assertion that he was 6ft 1in. The report also stated that Daniel was "well nourished."
Mrs Abrey said "my daughter told me 'you're not going to believe but they're saying Daniel was 5ft 4in'. But we know he was 6ft at least. Certainly I've got a letter from Freddy Patel saying that the height discrepancy was down to rigor mortis but I don't believe that. It's nonsense.
"It also says that Daniel was a 'well nourished' man. But my son was under weight. He was a 28 inch waist. He was tiny; very, very slim. They have ruined my life over it. I will never get over it."
Dr Patel received his first official censure in January 2002 when the GMC found he had been guilty of serious professional misconduct for a breach in patient confidentiality three years previously. But after the hearing, Dr Patel concluded a post mortem report on 38 year old Sally White whose body had been discovered in the flat of Anthony Hardy. He found that White had died of natural causes, a heart attack, despite signs indicative of violence including cuts, bite marks and bruises. In fact, White had been murdered by Hardy, the so-called "Camden Ripper," who went on to murder at least two other women. He was convicted of three murders in November 2003.
Bill Sweeney, aged 69 from west London, has accused Dr Patel of bungling the post mortem of his son Alan, who died aged 23 in 1991. Mr Sweeney accused the police of assaulting Alan and then giving local hospital completely false information that resulted in a fatal and negligent blood infusion, allegations the police deny.
Dr Patel concluded that Alan Sweeney had died of natural causes, a brain haemorrhage, despite evidence of cuts and bruises to his body. "I find it baffling," says Mr Sweeney.
"The report specifically states that there were no signs of violence, which I find astonishing because he described them in detail. Who measured a four by three inch bruise on his lower left art of his and then says there was no sign of violence when there was? This has completely destroyed us."
Niall Dickson, chief executive of the General Medical Council, said they are pleased that Freddy Patel has been removed from the register. He told the Today programme that the new regulations being introduced will include a system of checks requiring doctors to "demonstrate each year that they are practicing competently.
"Doctors have the capacity to do harm so it is important there is a system of checks," he told John Humphrys, adding that Dr Patel "absolutely lacked the ability to reflect on his own practice, he didn't have insight into his own failings."