Paralympic athletes 'working harder to break records'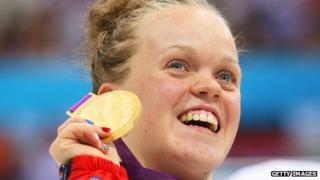 The high number of records being broken at the London 2012 Paralympics is more down to the quality of athletes than improved technology, organisers say.
At the half way point of the Games, 228 Paralympic records have been broken, compared with 339 in total at Beijing.
Controversial comments by Blade Runner Oscar Pistorius have prompted questions about whether rules on technology used by athletes need to be tightened.
But officials say records are being broken as athletes are working harder.
"Our athletes are getting better training and better funding," said International Paralympics Committee Communications Director Craig Spence.
There are now more Paralympic competitors who are full-time athletes rather than competing as a hobby, Mr Spence told the BBC.
He added that the margin by which records were being broken was also plateauing,
"Athletes are getting better," said Mr Spence. "With hard work comes more records."
"Technology will have an involvement but it is not the biggest factor," he said.
Many London 2012 competitors are using the same technology as they did at Beijing four years ago.
Half-way stage
Moments after his first 200m defeat in nine years - to Brazil's Alan Oliveira - on Sunday, Pistorius suggested his opponent had an unfair advantage as his prosthetics were too long.
The IPC has said it will take no disciplinary action against Pistorius for his comments and that it would meet the athlete to discuss his grievance.
The meeting would be set up once South Africa's national Paralympic committee requested it through official channels.
At the Paralympics' half-way stage, after five days of competition, 697 medals had been won by athletes from 63 countries.
Some 137 world records have been broken, with 28 on Monday alone; 279 world records were broken at the Beijing Paralympics.
ParalympicsGB swimming sensation Ellie Simmonds won her second 2012 gold with a world record in the SM6 200m individual medley on Monday.
The London 2012 Paralympic Games have also generated big numbers in terms of audience, both in person and online.
More than a million spectators have watched Paralympic events live in London, with more than 800,000 people visiting Stratford's Olympic Park, Locog said.
The levels of people interacting with social media about London 2012 show more people - particularly the young - are connecting with sport, said a Locog spokeswoman.
More than 5m people have downloaded London 2012's Paralympic results app, she added.
And London 2012 now has 4.5m followers across its social media output.
Paralympic tweets
More than 200,000 tweets a day were using the word "Paralympic" - with 12% of the UK's social media messages being about the Paralympics, said market research firm Nielsen.
The London 2012 website has received 10m visits since the Paralympics began - 32% from mobile devices, with half from the UK, she said.
For its part, the IPC's website received more traffic on the first day of the London Paralympics than it did throughout the whole of Beijing 2008, said Mr Spence.
The website is streaming 780 hours of live action across five channels with English and Spanish commentary throughout the Games.
It is also live streaming the Paralympic closing ceremony featuring an extended set by British band Coldplay.
The IPC wanted Paralympic sport to reach more countries than the 123 to which it was being broadcast on television, added Mr Spence, so its online coverage could reach a wider audience around the world.