Our good and bad experiences of the Paralympic Games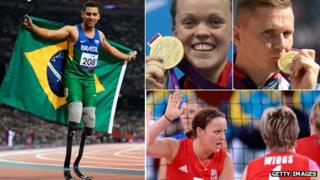 With the Games over, we returned to speak to several ticket-holders who told us previously about their journey to the Paralympics - from trying for tickets to planning their day there. They reveal how they found the big event and what they thought of the transport and facilities - were they as inclusive as everyone had hoped?
Daniel Storr
Daniel, 34, is a volunteer for the charity Wheelpower, which organises sports development and provides facilities and equipment for disabled people at Stoke Mandeville Stadium. He lives in Buckinghamshire and uses a wheelchair.
We saw wheelchair basketball, 7-a-side football, a full evening of athletics, fencing, sitting volleyball & boccia. The atmosphere on the main Olympic Park site was fantastic, although a little quieter at the smaller venues.
In my role as a volunteer for Wheelpower I have been to similar events before, although not on the same scale. Having said that, this was much better than I expected because they got the crowd cheering like mad which made it a fun experience.
My two joint favourite moments were seeing David Weir win gold in the 1500m and Paul Blake take silver in the 400m. They are both fantastic athletes and I think Blake is definitely one to watch in future - possibly in Rio in 2016.
My journey to and from the Games was largely ok and there were plenty of staff and Games volunteers with the knowledge to point you in the right direction.
However despite forward planning on our part, on one journey home, after the full evening of athletics, our train was unexpectedly diverted to an inaccessible station. We had to press the emergency alarm to speak to the driver who told us only that there was "a problem" at the accessible station.
Luckily there was a TfL employee on the train with us who - together with my dad - was able to put pressure on the driver to take us to the correct station after we had been to the station to which the train was diverted. In total this added about 20 mins to our journey and meant we got home at about 1:10 am. The rest of our journeys were without incident but it shows that things can go wrong sometimes.
We did have problems accessing venues at the Olympic Park, aside from the main stadium which was ok. This seemed to be because there was, to be fair, unprecedented demand for disabled seating in many venues, and they simply did not have enough to cope with the demand. This led to queues of wheelchairs and other disabled people outside venues and people like myself were only able to see part of some events - especially when the GB team was involved.
The Paralympics have been great. I've had a lot of enjoyment watching really inspirational athletes showing the world what can be done when you're willing to work hard to achieve your goals.
The public attitude to disabled people seems to have been improved enormously by the Games, which can only be a good thing as disability hate crime was widely reported beforehand.
Now I think people have seen what disabled people can do and they have been really positive. Let's hope that's a lasting change.
Sarah Price
Sarah, 26, works for School Sport Partnerships in County Durham, helping to provide sport for 40 schools in the area, including disabled children. She also works with disabled people to encourage them to participate in sport. She had tickets for athletics, swimming, sitting volleyball, wheelchair basketball, goalball plus an Olympic Park day pass and an Excel Centre day pass.
We saw loads of GB matches having managed to get some extra tickets and saw some amazing events including Hannah Cockcroft get GB's first gold medal on the track. We also saw Ellie Simmonds win the 400m swimming - I've never heard noise like it, it was incredible. She didn't look like she'd win it, then she overtook in the last 10-20m and the crowd just went wild. In the stadium we saw Oscar Pistorius get beaten in the 200m sprint and David Weir win the 5,000m.
But Ellie Simmonds was the highlight - we saw her get her medal and it was brilliant.
The venues were jam-packed but travelling from venue to venue was fine, no trouble at all. We took the cable car at the Excel Centre, it was quite a short journey but it was great seeing the Olympic Park in the background.
The overall organisation was fantastic and the Games Makers were great and it was really noticeable how many disabled people were in the park - it went really smoothly.
We also got to go to the Olympics, we got tickets for the hockey semi-finals the day before they took place so we had to grab some train tickets pretty quickly. This gave us an idea of what to expect in the Olympic Park in terms of queues, food etc.
When we came to the Paralympics our hotel was only 10 minutes away so we were able to pop in and out and buy food outside the park as it was quite expensive inside it.
Sightseeing had to be abandoned though - with so many tickets we didn't have time and decided to chill out between events instead.
I think the 2012 Paralympics will have a fantastic impact - it's been portrayed as having elite events, which it has, and there's a sport for everyone to progress to. My mam's got MS and we found out that one of the swimmers, Stephanie Millward, also has MS, so we've cheered for her.
The Games were absolutely fantastic and will definitely inspire a generation - which is the plan.
Sarah Ellacott
Sarah, 28, from Croydon, has four children - Rachael, eight; Mattie, six; Charlie, four and two-year-old Owen. She home-schooled her son Mattie who is autistic, until he gained a suitable place at a local school. She is doing an Open University course in Politics and Sociology. She and her family had tickets for swimming and athletics.
We saw the swimming on Saturday and the athletics on Sunday. The travelling up to the swimming was horrendous - I tried to avoid the tube so we got a direct train to St Pancras but found a huge queue for the Javelin train to the Olympic Park. This made us an hour late so my travel plan hadn't gone to plan at all.
We missed GB's Elllie Simmonds winning her heat and were a bit disappointed, although we still saw some GB guys qualify.
The trouble was, it's so warm in there, so it wasn't great for the kids. They warn you about it but you don't expect it to be that hot. We were sat at the top of the seats, but heat rises and you can't get any fresh air up there - a lot of kids ended up taking their T-shirts off to cool down. I was knackered as I'd had to leave the buggy at the bottom and carry my two-year-old up all the stairs.
Mattie definitely enjoyed about the first 15-30 minutes of the session but he started to get irritable towards the end of it - I forgot his ear defenders so it was a bit loud for him. We took him out of it with about half an hour of the session left - my two-year-old kept trying to escape too! But at the start Mattie was sitting and watching and he really enjoyed it - the Aquatics Centre is a fantastic venue. It's probably a good thing we were an hour late, I don't feel like my money was wasted.
It was better the next day at the stadium, we had an amazing time at the athletics. But despite getting there nice and early, we still missed the first half-hour queuing for buggy parking spaces. There were more children at the Paralympics as the tickets were cheaper, so the organisers should have made provision for it. The queue was so huge that in the end, I walked to front, said my son's autistic and he won't manage to wait, so I was taken to the front of the queue.
We saw GB's Aled Davies get gold in the discus, he was throwing really near our seats so it was great to be able to see that. We had Mattie's ear defenders and it was incredible with the stadium erupting when Davies won - to be in that crowd after a gold medal, it's crazy but so amazing. Mattie had a Paralympic scarf, his teddy and his flag - he really loved it, it was so much better than watching it on TV. You have to be there to grasp the atmosphere, it was definitely a once-in-a-lifetime experience.
Afterwards we bumped into two Polish Paralympians with gold and silver medals so we got to see them up close. Polish TV were filming at the time, so my kids are probably on Polish TV now!
For Mattie, it has been a struggle to get him interested in sport. I'm booking him some taster sessions with different sports to see what he thinks - he's tried rock climbing and he really enjoyed it. If he starts joining in with PE at school more, I'll take it that the Paralympics have inspired him. It will have achieved its goal!