Phone hacking: Met Police probe may cost £40m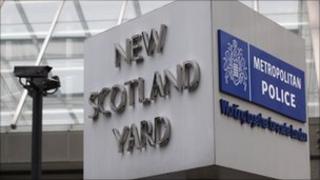 Investigations into phone hacking, privacy breaches and corrupt payments could cost £40m over four years, the Metropolitan Police has said.
Deputy Assistant Commissioner Sue Akers gave the figure to the Home Affairs Select Committee.
Ms Akers told MPs that despite the "enormous cost" she was not concerned that only 13 people had been charged.
She also said there were 1,069 "likely" phone hacking victims - more than the previous estimate of 702 given in July.
The investigation teams have identified the "likely" victims as being those for which there is other material present, such as a voicemail Pin code, audio tapes or transcripts.
And "potential" victims are those whose name and phone number appears in the material police are examining.
Ms Akers, who is overseeing three investigations involving claims of hacking, told the committee that when officers spoke to victims they sometimes identified others - often friends and family - who may have also been targeted.
Eight people, including former News International chief executive Rebekah Brooks and former Downing Street press director Andy Coulson, have been charged under Operation Weeting, which is looking at alleged phone hacking.
The investigation is running alongside Operation Elveden - which is looking into accusations of corrupt payments to officials - and Operation Tuleta, which is investigating allegations of computer hacking and other privacy breaches.
The three investigations have cost £9m this year, and Ms Akers predicted that the total cost could be £40m over four years.
Out of a total of 4,744 potential and likely victims, 2,500 have been notified.
The remainder were deemed to be non-contactable, Ms Akers said.
Keith Vaz, who chairs the committee, asked: "£40million of taxpayers' money, half the people haven't actually been notified, only eight people have been charged, is that a concern to you?"
Ms Akers replied that it was not.
"I think that the fact that people have been charged under Weeting represents a success in our investigation. Elveden is still under consideration," she said.
'Exit strategy'
Ms Akers said the Metropolitan Police would be under financial pressure after the Olympics, with the force having to cut millions of pounds from its budget.
She said it would be hard to decide when to end the investigations.
"An exit strategy is one of the most difficult issues. In terms of the phone hacking it's perhaps easier to see an end because we now have people charged. That needs to take its course through the courts," said Ms Akers.
She went on: "In terms of the corrupt payments that very much depends on the co-operation of the papers.
"If we're uncovering corrupt police officers we feel that we should continue to do that. But at some point - there is an enormous amount of money being spent on this, a lot of police resource, and post-Olympics we're going to be in very tight financial times."
There are 96 police officers working on Operation Weeting, 70 on Elveden and 19 on Tuleta.
To date, there have been 25 arrests under Operation Weeting, 43 under Elveden and 11 under Tuleta.