Julian Assange bail hearing adjourned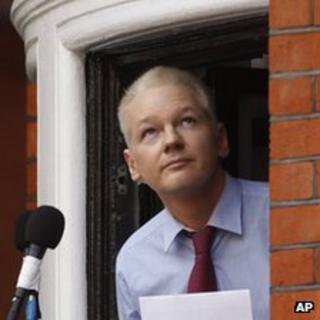 A hearing for people who offered surety to pay bail for Wikileaks founder Julian Assange has been adjourned.
Celebrities such as film directors Ken Loach and Michael Moore may forfeit bail money after Mr Assange, who faces extradition to Sweden over sex assault allegations, breached bail conditions.
The hearing has been adjourned until 3 October.
Ecuador has granted Mr Assange asylum, and he has been staying at the country's London embassy since June.
The 41-year-old Australian breached his bail conditions by taking refuge in the building.
A number of backers put up £240,000 in sureties last year.
Mr Assange is wanted for questioning in Sweden regarding rape and sexual assault allegations.
He denies assaulting two women in Stockholm in 2010 and says the sex was consensual.
Swedish prosecutors have dismissed his claims that their case is part of a wider political move to see him stand trial in the US over his work with Wikileaks.
Mr Assange has said he fears he could face the death penalty if convicted in the US - although the Human Rights Act prevents the UK or Sweden from being able to extradite people for trial in countries where they could face such a sentence.
On Monday, Foreign Secretary William Hague said claims Mr Assange could face the death penalty in the US were "without foundation".
He told MPs the UK and Sweden would seek assurances about his human rights if a "third country" sought to try him for disclosing documents.
And the foreign secretary called for further meetings with Ecuador to resolve the row.