A tough job at Justice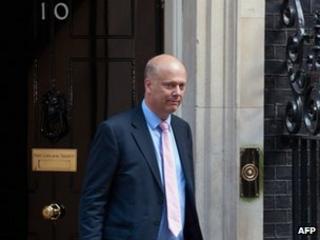 If the Conservative right see the appointment of Chris Grayling as a signal that the Ministry of Justice (MoJ) is going to re-adopt the slogan "prison works" then I think they may be disappointed.
The MoJ is in the middle of a programme of severe budget cuts and central to achieving the 26% savings is ensuring the prison population of England and Wales can be stabilised and, ultimately, brought down.
At the beginning of this year the population increased by 1,000 in a relatively short period which prompted a warning from the then permanent secretary at the ministry that unless demand eased, they would have to revisit their cuts plan. An increasing prison population was described as one of the "biggest risks the department faced".
So the new secretary of state will be told in no uncertain terms by his officials that the name of the game is to keep prison numbers down - not look to lock more people up.
Mr Grayling has very little room for manoeuvre: cuts of £350m to legal aid have been hugely controversial; slashing court and probation budgets still further simply to accommodate the cost of greater incarceration would be extremely unpopular, especially with the prospect of yet more public sector cuts to be announced.
Mr Grayling has said he is a supporter of what's called the "rehabilitation revolution" - looking at ways to prevent reoffending with "more effective" sentencing policies, particularly the use of restorative justice and robust community sentences delivered by the private and voluntary sectors on a payments by results basis.
That idea for a focus on reducing reoffending was a Conservative manifesto promise, it appeared in the coalition agreement and is still the number one priority for the department in its three year business plan published four months ago.
So my expectation is that Mr Grayling will perhaps change the tone of the ministry, but his options for a radical change in direction are extremely limited.
You may recall that Ken Clarke had originally proposed increasing the discount for offenders who pleaded guilty. The idea went down badly with the Conservative right in particular and the proposal was eventually dropped. That one change disrupted plans to reduce the prison population and save large sums, forcing the ministry to revisit cuts to other parts of the justice system.
As much as Mr Grayling's instinct might be to toughen sentencing rather than relax it, the plain fact is that punishment costs money. A lot of money. And money is something in diminishing supply at the MoJ.