Dairy farmers and processors agree code of practice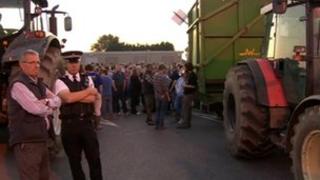 UK dairy farmers and processing firms have reached an agreement on a voluntary code of practice for future contracts for milk supplies.
Dairy UK says its deal with the National Farmers Union and NFU Scotland (NFUS) will help promote "trust" between milk producers and buyers.
It comes after farmers staged a series of protests and blockades during the year against declining payments.
Ministers have said they could bring in legislation if a code fails to work.
The dispute centred on reductions in the price paid by processors to milk producers after August.
Unions said the cuts, combined with rising feed costs, could force hundreds of farmers out of business.
Supermarket link
Industry representatives point out that the price of cream on global markets has fallen over the past year - from £1,800 per tonne in June 2011 to £1,020 a year later.
But the protests also saw some supermarkets targeted over the prices they pay suppliers for both liquid milk and milk used in dairy products.
Dairy UK Director General Jim Begg said: "This important initiative builds upon existing arrangements, which give farmers and processors security in business relationships, whilst adding additional safeguards that will assure farmers that their contracts are not putting them at a disadvantage in the marketplace...
"Only on this basis can the industry create the added value that will protect it from price volatility."
NFU Dairy Board chairman Mansel Raymond said farmers needed "equitable and trusting relationships with their milk buyers, and this can only be achieved by putting in place fair and transparent milk supply contracts".
He added that farmers and processors would now be working together to see the code "translated into beneficial terms in milk supply contracts".
Rory Christie, vice-chairman of the NFUS's milk committee, said: "This code of best practice is highly significant. It is about British dairy farmers working together with British dairy processors to improve the industry.
"Individually farmers can be weak, but the NFUS believe that dairy farmers working together can achieve a great deal, and we will be continuing this collaborative effort as we work to ensure the code is implemented in the best way for our dairy members."