Newspaper review: Papers ponder political questions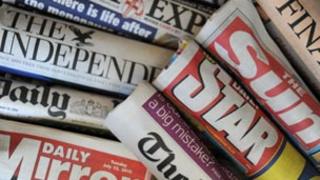 The many and varied issues that piled up on David Cameron's desk over the summer months dominate the front pages, as MPs return to Westminster.
The prime minister "aims to lift growth and fight critics", according to the Financial Times.
The Independent reports that David Cameron has decided to "bale out" of the decision on Heathrow expansion.
The prime minister, it says, will set up an independent review of Britain's airports.
Ministerial positions
The paper suggests removing the decision from politicians could also strengthen the position of Transport Secretary Justine Greening.
Ms Greening, it claims, "is one of five ministers digging in" to try to keep their posts ahead of David Cameron's expected cabinet reshuffle.
The Guardian says Mr Cameron has opted for a "shake-up across the ranks".
The Daily Express calls on the prime minister to "get rid of deadwood and stop the rot".
'Glorious goodbye'
The continued success of Britain's Paralympians is also featured in many of the papers.
The Times hails "a weekend of superhuman effort".
The Guardian says what it calls "a glorious goodbye" to Eton Dorney and to the Velodrome.
Following the completion of Olympic and Paralympic competition at the rowing and cycling venues, the paper asserts that they are now "written into the annals of British sporting history".
College high jinks
Finally, the Daily Telegraph paints what it calls "a colourful account of life" at Britain's most prestigious universities.
Oxford and Cambridge "have been bywords for academic excellence", it accepts.
But it says that Freedom of Information requests have revealed "an equally vigorous approach to high jinks".
It recounts an instance where a college boat club was banned from drinking at future dinners after parading its captain naked around a supermarket.