Paralympics taken to UK's heart, Locog says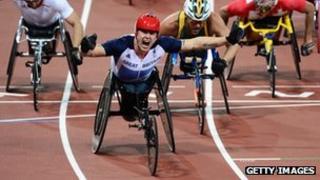 The UK has taken the Paralympics "to its heart", organisers have said, with the Games set to see the one-millionth visitor over the next 48 hours.
Locog said the 10,000 extra tickets being put on sale every day were being bought within minutes.
Record TV audiences have also prompted Games broadcaster Channel 4 to clear its daytime schedule for more coverage.
ParalympicsGB now sit second in the medal table behind China after winning 16 golds, seven of them on Sunday.
Across the day Great Britain won seven golds, eight silvers and three bronze medals in events including cycling, rowing, dressage, swimming and athletics.
Elsewhere there was controversy as South African favourite Oscar Pistorius, who also competed in the Olympics, took silver in the T44 200m final behind surprise winner Alan Oliveira, of Brazil.
Afterwards Pistorius complained that his rival's blades were too long, but officials insisted no rules had been broken.
ParalympicsGB are now well over halfway to their target of 103 medals after just four days of competition.
Their medal tally stands at 16 gold, 24 silver and 14 bronze. China have 35 golds, with Australia and Ukraine the next best nations with 13 each.
Almost three million television viewers watched 17-year-old swimmer Ellie Simmonds break the world record as she won gold in a dramatic S6 400m freestyle race on Saturday.
Jay Hunt, chief creative officer at Channel 4, said: "The coverage of the Paralympics has completely captured the public's imagination. We are clearing our schedule to bring viewers even more of this fantastic sport."
The UK broadcaster had been showing late afternoon coverage on sister station More4 but will make the change from Monday after strong viewing figures, include peak audiences of 11.2 million viewers for last week's opening ceremony.
The channel will show daily Games coverage from 07:00 BST to 23:15 BST, with a 30-minute break for Channel 4 News at 19:00 BST.
A Locog spokesman said: "The whole of the UK has taken the Games to its heart. As soon as tickets have been released, they have been snapped up."
Also at the Games on Sunday:
On Monday, highlights for Britain include Pearson in the individual freestyle test, Simmonds back in the pool in the 200m, David Weir on the track in the 1500m and John Stubbs defending his archery title.
Meanwhile, the International Paralympic Committee (IPC) has defended its decision not to drug test all medal-winning athletes, in contrast to what happened at the London Olympics.
The IPC said the greater number of events made that "impossible", with more than 500 golds being competed for compared with 300 at the Olympics.
It said more than a quarter of the 4,200 Paralympic athletes competing in London would be tested - up a fifth on Beijing 2008.