Deadly Yosemite virus warning to 100 British tourists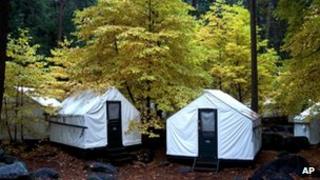 British tourists who may have visited a US park at the centre of a deadly virus outbreak are being contacted by the UK's Health Protection Agency.
The HPA is trying to warn and advise about 100 Britons who visited Yosemite National Park from mid-June to August.
The agency said it knew of no cases among those Britons of Hantavirus Pulmonary Syndrome (HPS), which has claimed two lives among six US cases.
Symptoms can take up to six weeks to show and one third of cases is fatal.
The virus, which causes severe flu-like symptoms, is not infectious or contagious.
The agency, which is offering more information on its website, said it had not detected any cases among Britons.
About 10,000 people - mostly Americans - who stayed in cabins in the California park's Curry Village may have been exposed to the virus.
An HPA spokesman said: "Local HPA Health Protection Units are currently contacting UK travellers who may have stayed at the park, using information supplied by the Yosemite National Park, and providing health advice and information on HPS and information on the ongoing situation in the US.
"If individuals are concerned they can contact their local Health Protection Unit (HPU) for further advice."
Yosemite is getting about 1,000 calls per day from frightened visitors on its Hantavirus hotline.