Paralympics drugs testing policy defended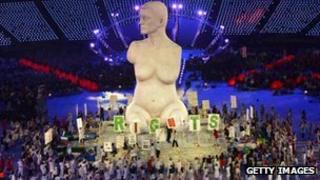 Paralympic organisers have defended their decision not to drug test all medal-winning athletes - as with the Olympics - saying the greater number of events made it "impossible".
More than 500 golds are being competed for compared with 300 at the Olympics.
The International Paralympics Committee said more than a quarter of the 4,200 athletes competing in London would be tested - up 20% on Beijing 2008.
Meanwhile, Channel 4 is to clear its daytime schedule to show more coverage.
The UK broadcaster had been showing late afternoon coverage on sister station More4 but it will make the change from Monday after strong viewing figures.
They include peak audiences of 11.2 million viewers for the opening ceremony and 3.3 million on Saturday night when highlights included 17-year-old British swimmer Ellie Simmonds' S6 400m freestyle gold medal.
The channel will show daily Games coverage from 07:00 BST to 23:15 BST with a 30-minute break for Channel 4 News at 19:00 BST.
Gold haul
The International Paralympics Committee (IPC) says about 1,250 tests for performance-enhancing substances will have been carried out by the end of the Games.
Some 207 tests were conducted on athletes during the first three days of competition with 476 tests carried out before the start of the Games but none of the athletes have so far tested positive.
At least one medallist from each event will be tested compared with every gold, silver and bronze winner at the Olympics.
Dr Jose Antonio Pascual, chairman of the IPC's anti-doping committee, said: "As with previous Games, we try to cover all countries, all sports.
"But the fact that in the Paralympic Games we have a lot of medal events because of the classification of all the athletes - around 500 - makes testing for every single athlete having gold, silver and bronze impossible.
"If they have a medal, they have a high probability of being tested but it's not 100% sure."
As the sport continued on the third day of competition, discuss thrower Aled Davies helped GB to surpass its athletics gold medal haul at Beijing in 2008 with the team's third.
Davies added to his bronze in the shotput by throwing a UK record 46.14m in the F42 discuss final.
Wheelchair athlete David Weir, meanwhile, added a fourth GB athletics gold of the Games with victory in the T54 5,000m final on Sunday night.
There were five other GB golds on Sunday, including in the mixed cox fours at Eton Dorney, Berkshire - watched by the Duchess of Cambridge as well as the Countess of Wessex and her eight-year-old daughter Lady Louise Windsor.
David Smith, James Roe, Naomi Riches, Pam Relph and cox Lily van den Broecke added the Paralympic gold to the world title they won last year.
Catherine, wearing a Games jacket, was seen clapping her hands above her head and punching the air as they beat rivals Germany in a close sprint to the line.
Other Games highlights on Sunday have included: