Baroness Warsi's plea to remain Tory party chairman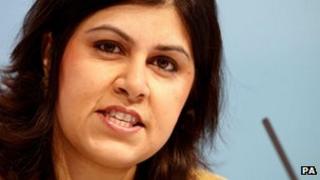 Conservative Party chairman Baroness Warsi has appealed to David Cameron to allow her to keep her post in any forthcoming cabinet reshuffle.
The PM is expected to have his first full reshuffle next week and there has been debate about Lady Warsi's future.
But she told the Daily Telegraph: "If I genuinely had a choice, I would like to stay doing what I'm doing."
Lady Warsi, the first female Muslim cabinet minister, said she could help attract a new generation of voters.
BBC political correspondent Chris Mason said the reshuffle was very unlikely to affect Chancellor George Osborne, Home Secretary Theresa May and Foreign Secretary William Hague.
But he said former Chief Secretary to the Treasury David Laws was expected to return to the cabinet.
Mr Laws resigned as chief secretary to the Treasury two years ago after admitting he claimed expenses to pay his partner's rent.
'Working-class mum'
Speaking in Tampa Bay, Florida, where she has been attending the Republican Party convention, Lady Warsi said the prime minister knew her strengths and weaknesses.
She said the party needed more votes from people in urban areas and more women.
She said: "If you look at the demographics, at where we need to be at the next election, we need more people in the North voting for us, more of what they call here blue collar workers and I call the white working class.
"We need more people from urban areas voting for us, more people who are not white and more women.
"I play that back and think, I'm a woman, I'm not white, I'm from an urban area, I'm from the North, I'm working class - I kind of fit the bill. All the groups that we're aiming for are groups that I'm familiar with.
"I believe you've got to have the right people in the right job," she added.
The Conservative peer who describes herself as a "Northern working-class mum" has a reputation for speaking her mind and has not been afraid to court controversy.
In June she was cleared of a breach of the ministerial code after being accompanied by a business associate on an official visit to Pakistan.
And in July she was cleared of allegations she wrongly claimed Parliamentary expenses.
It was alleged that in 2008 she claimed overnight expenses for staying in London while living rent-free.