Paralympic Games: Coe 'delighted' at crowd's response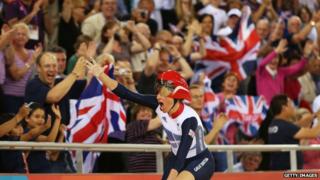 The crowds and atmosphere at Paralympic events show the Games have ignited the excitement of the country, says London 2012 Chairman Sebastian Coe.
Some 122,000 spectators watched live action on Thursday, with 78,000 at the Olympic Park and 18,000 at the ExCel.
Medal-hungry home crowds tasted success as the likes of Sarah Storey pedalled ParalympicsGB to its first gold and Jonathan Fox won Britain's first London 2012 swimming gold.
"There was a better atmosphere in the Aquatics Centre last night than there was a couple of weeks ago," said Lord Coe.
With near sold-out athletics events on Friday and over the weekend, the park would be even busier, he added.
"I'm delighted that track and field is being performed in front of pretty much full venues," he said.
"It's a very powerful and eloquent statement about the status of the sport."
The aquatics centre and velodrome were sold out on Thursday, Locog said.
All tickets released so far had sold out except for boccia, the road races and the closing ceremony, a spokeswoman added.
Culture Secretary Jeremy Hunt said the UK was "blazing a trail" with the massive public interest in the Games.
"This could be the year when [the Paralympics] turns a corner and becomes as popular as the Olympics," said Mr Hunt.
Mr Hunt praised the success of home-nation athletes on day one.
"They've done us a huge favour by not making us wait for five days to get the first gold medal," as happened with the Olympics, he said.
Time and expertise
Speaking at a press conference in the Olympic Park on Friday, Lord Coe said the focus after the next 10 days would be in turning London 2012's success into a lasting legacy.
Anecdotal evidence suggested there had been a massive take-up in sports club membership over the past month, he said, adding that his own nephew had joined a gymnastics club the day after watching gymnasts in action at the Olympics.
One challenge would be to make sure that spike in interest was maintained over the next 10 years.
He praised the work of the 70,000 purple-clad Games Maker volunteers who, he said, had gained one of the biggest fan-clubs in the country with their warmth and competence throughout the Games.
And he said those who had enjoyed their experience should sign up at local clubs or societies.
"The most important thing you can give to a sports club or society is that crucial asset of your time and expertise," he said.
Lord Coe defended Atos, a Games sponsor whose healthcare wing has seen a week of protests by disability rights campaigners over its "fit for work" assessments being carried as part of the government's welfare reforms.
Lord Coe said the company had helped with the London 2012 accreditation process, recruitment of volunteers, and results delivery service.
"We can't do this without sponsors... I'm glad they're here," he said.
"They're partners and they help us to deliver this... Their work goes way beyond any of that visibility."
He also praised the "sensational" coverage of Channel 4, which has been criticised for running adverts during Wednesday's opening ceremony.