Parking attendants 'on the rise' across UK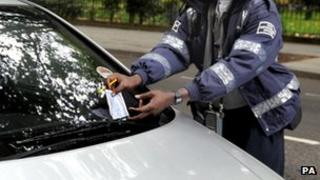 The number of parking attendants hired by councils has risen by nearly 6% since 2008, figures have suggested.
During the same period, 17% of councils reduced free parking, according to UK-wide data sourced by LV car insurance.
It comes as local authorities make significant budget and job cuts.
Local Government Minister Bob Neill said there was "no excuse" for using motorists as "cash cows", but a body representing some UK councils said regulating parking was "essential".
Data provided by more than 200 UK councils as part of a Freedom of Information request, suggested a 5.8% jump in the number of parking attendants, with numbers increasing from 3,630 to 3,841 between 2008 and 2012.
Some 10% of councils have increased the number of on-duty parking attendants by at least 20%, it suggested.
Average council areas now have some 16 parking attendants enforcing traffic, parking and other laws, while London boroughs have 51, the data also showed.
And 10% of drivers have received parking fines over the last 12 months, with those hit paying out £340 - about £96 per offending driver.
'Cash cows'
Of the councils that provided information, Westminster hired the most parking attendants with 242, while Islington in north London had 135, followed by Edinburgh with 121, and Lambeth in south London with 99.
Meanwhile, 57% of drivers said parking in their nearest town was more difficult now than in 2008, with 7% thinking it was easier, according to another LV survey of 1,583 motorists.
Some 18% of drivers revealed they had parked illegally in the last year.
Local Government Minister Bob Neill said: "There are plenty of other ways for councils to raise extra income or make savings like better procurement and sharing back-office services.
"We want to see councils use parking to support the High Street and help their local shops prosper.
"That's why we have ended the last government's requirements to limit spaces, push up parking charges and encourage aggressive parking enforcement."
But the Local Government Association (LGA), which represents councils in England and Wales, said good management of parking was vital.
"Regulating parking is essential to keep traffic flowing, pedestrians and motorists safe, roads clear for emergency services and business deliveries, deterring drivers from blocking roads and pavements, and ensuring people can park near their homes or local shops," said Tony Ball, vice-chairman of the LGA's economy and transport board.
"With the number of cars on our roads increasing, it's more crucial than ever that on-street parking is properly managed."
'Cash-strapped motorists'
He also said that towns and city centres no longer had the space to "keep creating more parking spaces".
"Councils have worked hard to improve public transport and cycling provision to encourage more people to leave their car at home unless driving is essential," said Mr Ball.
"Any revenue raised from parking management must be spent on transport services such as filling potholes, bus passes for the elderly, park and ride schemes, street lights, parking services and road improvement projects, things which will benefit all road users at some point."
John O'Roarke, managing director at LV, said the lack of free parking in council areas was "putting increasing pressure on cash-strapped motorists", with many "resorting to parking illegally".
"This problem is being exacerbated as councils increase the number of paid parking zones in their areas and take on more parking attendants to police them," said Mr O'Roarke.
He also advised drivers visiting busy areas to plan ahead and "consider parking slightly further away to avoid high parking charges".
"Many cities now offer park-and-ride schemes, which are a fraction of the cost of inner city parking," he said.