London Met student: 'I'm petrified'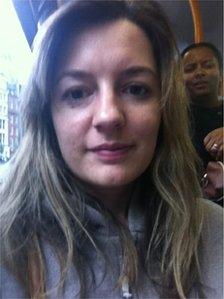 Aline, 26, is from southern Brazil and has been studying a single honours undergraduate degree in psychology for three years at London Metropolitan University.
With only one semester left before graduating, she says the news from the Home Office has left her feeling "completely let down".
"I had to study English to live in the UK and I took a CAE test to get onto my course, which was hard for me at the time.
"There have been many weekends and evenings spent studying. I've put a lot of effort into it and it's been time consuming.
"But I've really enjoyed the course and I want to pursue a job in psychology - maybe not in the UK anymore. Having a degree from Britain is extremely valuable in Brazil, but only if you complete it."
And as a part time counsellor for Childline, studying is not the only thing Aline will miss out on if she is forced to leave.
"I've been a volunteer at Childline for more than six months which I really love. I feel useful and I'm part of the community as well.
"But now I realise it could all come to nothing.
"I was very surprised and upset when I heard the news about international students. It means I'm not going to be able to finish my degree which has taken three years of hard work.
"Getting this news now is terrible - I'm petrified."
Like many other international students choosing to study in the UK, Aline's course has also been a costly commitment.
"I paid £8,000 for each year of this course, including this year which I might not be able to finish.
"My parents have helped me, but for all of us it's been a really huge investment.
"I heard about this after I received a few emails from the university letting us know what is happening, and I also contacted them.
"Because of the what might happen, I have to think of other options now, and I've contacted another university as this is the only other option open to me."
Aline says she now has 60 days to sort out her visa.
"The Home Office has made it clear that we will have to move on.
"We play by the rules they set, we have to do everything they say, and then they change the rules. It's not fair to do that.
"Even if there are students without the right documentation, what about those who do have it? Will they pay for those who didn't do it properly?"
Some 2,000 international students now face deportation since London Met had its licence to teach and recruit students from outside the EU revoked.
"I feel sorry for the other students - I've spoken to a few girls who are in the same position as me. Everyone is worried.
"I'm afraid, but I'm not ready to give up - I'll handle it in the best manner I can but there are sometimes things you cannot change.
"And I will be very sad and disappointed to leave the UK. I feel like they are letting us down.
"I think others will think twice about choosing to study in the UK now, as all of a sudden things can just change. They might start a course and not be able to finish it like me.
"It looks like I will have to start all over again. Things are bad for me now, because if you don't finish a degree it's worse. If I look for a job or I want to do a masters, no one will take me.
"It's our chances that are being suspended."