Journalist arrested in computer hacking probe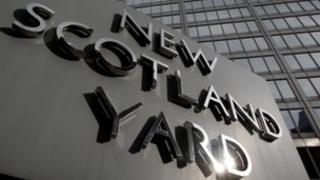 A journalist has been arrested as part of the Metropolitan Police's inquiry into allegations of computer hacking.
The man, understood to be 28-year-old reporter Patrick Foster, was later bailed until November, police said.
The Met said he was "questioned about alleged computer hacking relating to the identification of a previously-anonymous blogger in 2009".
It is believed it relates to the outing of an police blogger known as Nightjack, by the Times in 2009.
He is the 11th person to be arrested by detectives from Operation Tuleta which is taking place alongside the phone-hacking scandal investigation, Operation Weeting.
Mr Foster was also arrested on suspicion of conspiracy to pervert the course of justice.
He was arrested at his home and questioned at a north London police station before being bailed.
'I apologise'
The Times, owned by News International, named Lancashire detective Richard Horton as the author of the blog in June 2009 after the High Court refused to grant him anonymity.
The paper's then-legal manager Alastair Brett admitted at the Leveson Inquiry into press ethics that legal documents filed as part of the case did not give the "full story".
Appearing at the Leveson Inquiry, Times editor James Harding apologised, saying, "As editor of the paper I'm responsible for what it does and what its journalists do.
"I sorely regret the intrusion into Richard Horton's email account by a journalist. I'm sure that Mr Horton and many other people expect better of the Times, and so do I. So on behalf of the paper, I apologise."
In his blog, Night Jack - An English Detective, Mr Horton chronicled his working life in an unnamed UK town with descriptions of local criminals and his struggle with police bureaucracy.
It won the Orwell Prize for blogging in 2009, but he has not written since his identity was exposed.
He was given a written warning by Lancashire Police, which said parts of his public commentary "fell short of the standards of professional behaviour expected of its police officers".
Mr Horton is now claiming aggravated and exemplary damages from Times Newspapers for breach of confidence, misuse of private information and deceit.