Ecuador: UK Wikileaks' Julian Assange 'threat' over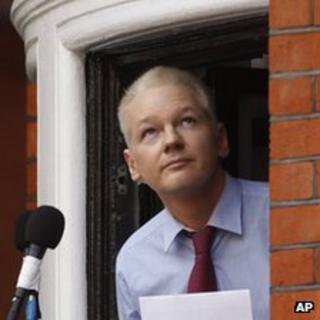 Britain has "given up its threat" to enter Ecuador's London embassy to arrest Wikileaks founder Julian Assange, Ecuador's president has said.
Rafael Correa told reporters "we consider this unfortunate incident over", following assurances by the UK.
A diplomatic row broke out after Ecuador granted asylum to Mr Assange, who faces extradition to Sweden to face questions over alleged sexual offences. He denies any wrongdoing.
The UK says it never made any threats.
The Foreign Office (FCO) said it sent the Ecuadorean embassy an official letter on Friday, aimed at "calming things down" and allowing talks to resume.
Speaking at a press conference on Sunday, Mr Correa said: "We consider this unfortunate incident over, after a grave diplomatic error by the British in which they said they would enter our embassy."
Ecuador's government also said it had received "a communication from the British Foreign Office which said that there was no threat to enter the embassy".
Ecuador had accused Britain of threatening to enter its London embassy and seize Mr Assange - who remains inside the building - after UK officials said a 1987 law gave police the power to enter diplomatic premises.
'Constructive discussions'
Former computer hacker Mr Assange, 41, has been taking refuge at the embassy since June.
The FCO says the UK has a legal obligation to extradite him to Sweden, and he will be arrested if he leaves the embassy.
In a statement on Sunday, it said it remained "committed to the process of dialogue we entered into in good faith some weeks ago.
"We invite the government of Ecuador to resume, as early as possible, the constructive discussions we have held on this matter to date."
It also reiterated a statement made in a letter sent to the Ecuadorean embassy on Friday that said "at no time has the UK government made any threat against the embassy of Ecuador.
"Respect for, and compliance with, international law is at the heart of the conduct of the foreign policy of the United Kingdom."
In 2010, two female Wikileaks supporters accused Mr Assange of committing sexual offences against them while he was in Stockholm to give a lecture.
Mr Assange says the sex was consensual and the allegations are politically motivated.
He says he fears onward extradition to the US if extradited to Sweden because of his website's publication of confidential documents.
But in May, the UK Supreme Court dismissed Mr Assange's bid to reopen his appeal against extradition and gave him a two-week grace period - during which he entered Ecuador's embassy - before extradition proceedings could start.
Meanwhile, the US is carrying out an investigation into Wikileaks, which has published a mass of leaked diplomatic cables, embarrassing several governments and international businesses.