Prince Philip in first public outing since hospital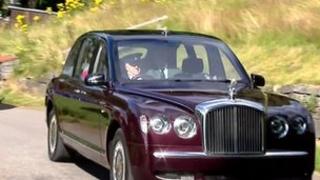 The Duke of Edinburgh has made his first public appearance after being discharged from hospital on Monday.
He accompanied the Queen to Crathie Church - which is only a short distance from Balmoral, where they are staying.
Prince Philip, 91, spent five nights at the Aberdeen Royal Infirmary as a "precaution" after a recurrence of a bladder infection he had in June.
It was his third hospital stay in nine months. On Friday, Buckingham Palace said he continued to "recover well".
A palace spokesperson also confirmed the duke would not attend the opening ceremony of the Paralympic Games, which takes place on Wednesday evening in London.
He had been due to accompany the Queen, who will officially open the Games. Instead he will remain at the family's Scotland estate, Balmoral, in Aberdeenshire.
Other members of the royal family at Sunday's service included the Duke and Duchess of Rothesay - Charles and Camilla - the Earl and Countess of Wessex - Sophie and Edward - and Princess Anne.
Prince Philip's latest admission to hospital followed a recurrence of an infection he suffered shortly before the Queen's Diamond Jubilee concert on 4 June, which he had to miss.
He spent five nights in hospital then with a bladder infection after braving the elements during the Diamond Jubilee Pageant on the River Thames.
Prince Philip, who is the longest-serving royal consort in British history, also spent four nights in hospital over Christmas after an operation to clear a blocked heart artery.
In March, Prince Harry said the procedure - which was successful - had given his grandfather a "new spurt of life".