Paralympics wheelchair bookings 'discriminate', MP says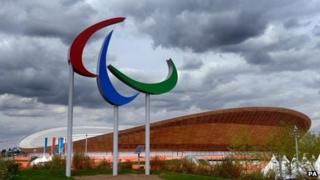 The organisers of the Paralympic Games have been accused of discrimination for making wheelchair users book tickets via a business rate phone number.
Former Labour Sports Minister Gerry Sutcliffe said making people book wheelchair spaces at events by calling an 0844 number was "discrimination".
Baroness Tanni Grey-Thompson, a former Paralympian, defended the move by Locog saying their intentions "were good".
Meanwhile, a further 70,000 tickets for the Paralympics have gone on sale.
The latest release includes the remaining tickets for the opening ceremony on Wednesday.
About 2.3 million tickets have now been sold for the London Games, more than for any other Paralympics.
Reimbursement call
Locog says wheelchair spaces were sold online for several months and it only switched to the phone lines in May.
Mr Sutcliffe, who chairs the All-Party Parliamentary Group on Disability Sports, said he had spoken to Locog about the "unfair" phone booking system.
He said: "The organising committee have done a fantastic job but there is discrimination against those people who are wheelchair users, who are going to have to use this premium rate."
He also said people who have called the business rate lines should be reimbursed.
"We are not talking about vast amounts of money here against the context of the Games, but it is the principle of the thing.
"For this small group of people who have had to pay the premium rate, we should find a way of compensating them."
According to communications regulator Ofcom, 0844 calls cost between 1p and 13p per minute for landline customers. Calls from mobile phones typically cost between 15p and 41p per minute.
Locog says it is not receiving revenue from the phone lines.
Baroness Grey-Thompson - who won 11 Paralympic gold medals - said she believed Locog acted with good intentions but was aware there were "a few issues".
"The reason Locog directed people who needed specialist assistance to a phone line was so they had a person to talk to, that they could ask and get the tickets that they needed," she said.
"I think the intentions were good. I think what has just blown everyone away is the interest in tickets and the fact that so many of the wheelchairs tickets went."
'Extra help'
People were able to apply for Paralympics wheelchair spaces online from September 2011, when tickets first went on sale. In November 2011 wheelchair users had the option for the first time of booking via the phone, as well as online.
Then from May 2012, people could only book a wheelchair space via the phone.
The process was changed once Locog began selling specific seats, rather than a price category, and therefore needed to seat wheelchair users in a specific location within a venue.
Culture Secretary Jeremy Hunt said the phone line created "a dedicated service for people who need extra help in terms of their arrangements in getting to the park".
Mr Hunt told the BBC that there was an "issue" with the business rate booking number.
He said: "I think you have to look at the thing as a whole and say - are we doing enough? Are we doing more than we have ever done for people who are disabled so they can enjoy the spectacle? And we are, we are doing a huge amount.
"What we're doing is more than has been done before. You are picking on one thing we're not doing, but actually, overall, we have done more in this Paralympics organisation for disabled people because we want them to feel part of it."
Mr Hunt pointed out that anyone attending the Paralympics as a wheelchair user can bring a companion free of charge and that there are free Blue Badge parking and free mobility scooters within the Olympic Park.
He also said the UK had "blazed a trail when it comes to the rights of disabled people" and that the organisers had "really bent over backwards to make sure that disabled spectators feel part of the Games".
A Locog spokeswoman said: "We are proud to do more for spectators with accessibility needs than any other sporting event in this country."
She added: "We exceeded UK legislation and sports ground guidance for providing more accessible seating and wheelchair positions than any other sports stadium in the country."