Rowers' Olympic medal success celebrated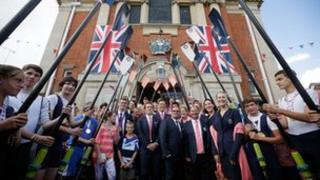 The Olympic success of rowers from the Leander Club has been celebrated in Henley-on-Thames in Oxfordshire.
Some 12 athletes from the club won medals, including golds for two crews and silvers and bronzes for two more.
Ten of those plus three medallists from different clubs took part in the event which culminated with an open-top bus parade through the town.
Elsewhere Jade Jones's taekwondo gold medal was celebrated in her home town of Flint, north Wales.
The teenager appeared on the balcony at Flint Town Hall before an open-top bus tour of the town.
Jones later tweeted: "One word about tonight - unbelievable. Thanks to everyone who came."
And Olympic gold medallist Steven Burke has returned to Lancashire, where he was taken around Colne in an open-top car, followed by a cavalcade of cyclists.
The 24-year-old, nicknamed The Colne Cyclone, won gold in the men's team pursuit track cycling at London 2012.
In Henley, thousands cheered from the banks of the Thames as the oarsmen and women performed a row-past upstream.
The 10 Leander Club members attending the celebrations were Alex Gregory, who won a gold medal in the men's four; Anna Watkins, who won gold in the women's double sculls, and Chris Bartley and Richard Chambers, who won silvers in the lightweight men's four.
There was also Mark Hunter, who picked up a silver medal in the lightweight men's double sculls; Alex Partridge, Rick Egington, Matt Langridge and Phelan Hill, who claimed bronze in the men's eight; and Will Satch, who won a bronze medal in the men's pair.
The three other medallists attending from different clubs were Tom James (Molesey Boat Club), who won a gold in the men's four, Tom Ransley (York City Rowing Club) and Greg Searle (Molesey Boat Club), who won bronze medals in the men's eight.
'Really special'
At 10:45 BST they started the row-past to the River and Rowing Museum before returning to the Leander Club.
It was followed by an open-top bus parade through Henley and a civic reception at Henley Town Hall.
It was an exciting day, said Alex Gregory.
"We really like to be able to give back to the town and people who have enjoyed the Olympics.
"It's really special when someone says, 'Oh, I saw your race and really enjoyed it and it's inspired my kids to start rowing or start sport or learn something that they wouldn't have done otherwise.'
"We're really starting to appreciate what it means to people and we can, we're paying back Henley now for all the support they've given us and Leander Club here so it's a special day for us."