Newspaper review: Prince Harry photo debate rumbles on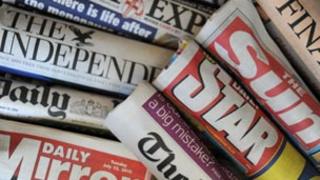 The decision of the Sun to publish naked photos of Prince Harry, in defiance of a request from St James's Palace, sparks a lot of discussion.
The Times offers support, arguing that newspapers must have the right to debate issues of public interest and to judge what is fit to print.
The Daily Mail "resolutely defends" the right of all newspapers to publish what they believe to be in their readers' interests and it says it is not for lawyers, judges or anyone else to decide what the public should see.
But the editor of the Independent Chris Blackhurst says there was no justification for showing the pictures.
He says there is a strong case of a breach of privacy as defined by the Press Complaints Commission code.
GCSE row
The Guardian says the story has led to papers having to balance freedom of expression versus privacy.
It says a press regulator is needed which can reach fair and swift decisions in such cases, as well as an agreed concept if the public interest.
The Independent leads on what it says is the escalating row about this week's GCSE results.
The paper runs an open letter to the education secretary from an English teacher from Surrey.
Chris Edwards accuses Michael Gove of betraying pupils he says received a D for work which would have got them a C grade last year.
The Daily Mail says many heads are demanding papers are re-marked and teaching unions are calling for an inquiry.
Twitter denial
The editor of Cycling Plus, Rob Spedding, writes in the Daily Mirror that the cycling world is divided as to the guilt of Lance Armstrong, seven times winner of the Tour de France.
In its leader column the paper concludes that whatever the truth any drugs-free sport is a better sport.
The opera singer Katherine Jenkins makes it onto the front pages of several papers after taking to Twitter to deny an affair with David Beckham.
The Mirror said she had been hounded by internet trolls.