Anorexic woman not to be force-fed, judge rules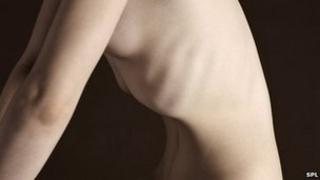 A High Court judge has ruled in favour of an NHS trust that force feeding would not be in the "best interests" of an anorexic woman.
Mrs Justice King, at the Court of Protection in London, heard that the 29-year-old woman, who weighs about 3st 2lb (20kg), does not wish to die.
She ruled "all reasonable steps" should be taken to gain the woman's co-operation, without "physical force".
Anorexia creates a fear of ingesting calories that stops a person eating.
The woman from the north of England, who cannot be identified for legal reasons and is referred to as L, has suffered from anorexia from the age of 12.
Since turning 14 she has spent 90% of her life as an in-patient.
'Likely to die'
Bridget Dolan, representing the trust, said: "It has reached a point where the NHS trust who have her physical care are of the view that force feeding is not in her best interests, notwithstanding that it is probable that if not fed she will die."
The woman was in a psychiatric unit until March when "her physical state became such that it was believed she was likely to die without physical treatment".
"To some extent she has defied expectations and continued to live at such a low weight," added Ms Dolan.
She said L does not express a wish to die and "that is certainly not part of her motivation in refusing nutrition and hydration".
However, her severe anorexia "does not allow her to eat".
She said the woman had only agreed to receive 600 calories each day through a tube, which was "insufficient to maintain her current weight and certainly could not allow her to put on weight".
Ms Dolan told the court: "The issue is what do the doctors do? Do they force feed her against her wishes, or do they allow her to be the barometer by which the decision about how much nutrition she takes in is made."
The trust has described L as being "highly intelligent".
'Extremely brave'
After hearing the evidence, Mrs Justice King ruled it would be in L's best interests for medical staff to provide her with nutrition, hydration and medical treatment "in circumstances where she complies with that administration".
She also declared medical staff should be permitted "not to provide L with nutrition and hydration" if she did not agree to it, and it was not possible to do "without the use of physical force".
An order by the judge said "all reasonable steps" should be taken to help L, including the use of persuasion involving her parents and others "in whom she might have some trust".
Should L enter the "terminal stage of her illness", it said, L should be provided with palliative care so she "suffers the least distress and retains the greatest dignity until such a time as her life comes to an end".
Addressing L's mother and father, Mrs Justice King said they had been "extremely brave" and that L was "very fortunate to have such parents".
She said that, based on the evidence heard, "this is not going to be a battle (L) is going to win".
"The task for everyone now is to make these last weeks - and I hope it is longer and not shorter - as comfortable for her as possible, and for you to have as much time as you possibly can together."
L's mother said her daughter was a "lovely" person and no one had imagined in "a million years" that this would happen when she first "became poorly".
In June, a High Court judge ruled that a 32-year-old woman with "severe" anorexia who wanted to be allowed to die should be force fed in her "best interests".
He said the woman from Wales did not have the capacity to make decisions for herself.