Duke of Edinburgh to miss Paralympic Games opening ceremony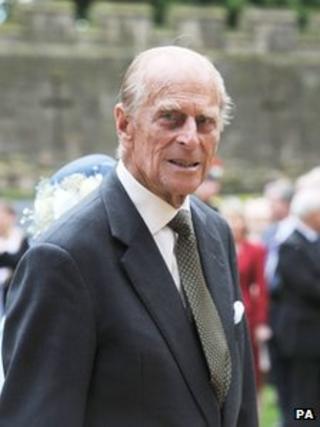 The Duke of Edinburgh will not attend the opening ceremony of the Paralympic Games, Buckingham Palace has said.
The ceremony is taking place on Wednesday evening in London.
Prince Philip, 91, was due to attend with the Queen as she officially opens the Games but will remain at the family's Balmoral estate in Scotland.
The palace said the duke "continues to recover well" after suffering from a bladder infection. His latest stay in hospital was his third in nine months.
Earlier this week, the duke was discharged from Aberdeen Royal Infirmary after five nights in hospital.
He was taken to hospital during the Royal Family's annual summer break at Balmoral in Aberdeenshire.
Buckingham Palace had described his most recent admission as a "precautionary measure", after the recurrence of an infection he suffered shortly before the Diamond Jubilee concert on 4 June.
In June, the duke spent five nights in hospital with a bladder infection following the Diamond Jubilee Pageant on the River Thames.
He missed some of the key celebrations for the Queen's 60-year reign, including the star-studded Jubilee concert.
However, he did join the Queen at the opening ceremony of the London Olympics on 27 July, also touring the Olympic Park.
And Prince Philip did view a number of Olympic events, including his granddaughter Zara Phillips's equestrian competition on 29 July.
The prince, who is the longest-serving royal consort in British royalty, also spent four nights in hospital over Christmas following an operation to clear a blocked heart artery.