Cod and haddock demand 'exceeds UK sea supply'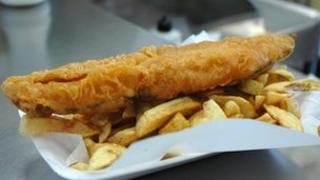 The UK would have run out of fish for the year by now if it relied on stocks from its own waters, a report suggests.
Annual domestic fish stocks can satisfy demand for about 233 days a year, think tank the New Economics Foundation said.
This leaves the UK reliant on imported fish, such as haddock and cod, with at least one in three fish consumed in the UK imported from outside the EU.
The NEF said demand could be met with better managed seas. Ministers cited the UK's call for sustainable fishing.
The UK imports more than 101,000 tonnes of cod, worth £372m, and 60,000 tonnes of haddock, worth £156m, in a year, the majority of which comes from outside the EU, according to figures from 2010.
It is reliant on countries such as Iceland, Norway and China for a large share of traditional British fish, the 2012 Fish Dependence report said.
The situation has improved since last year, when the UK effectively ran out of fish more than a month earlier than in 2012, but is largely unchanged over the past decade.
The report says UK fish stocks would run out on 21 August but points out that Spain, France, Germany and Italy all used up their own supplies earlier in the year.
'Net importer'
Rupert Crilly, of the NEF, said the UK had access to productive fishing grounds and had moderate levels of consumption compared to some other European countries, such as Spain and Portugal.
"It could produce as much as it needs but instead it is a net importer of fish," he said.
"Consumers understand that we import tuna which is virtually non-existent in its waters; but they will wonder why we need to import cod and haddock from China when our cod and haddock stocks could deliver five and three times more catches with better management," he said.
Elsewhere in Europe the situation is more acute, with EU consumption of fish outstripping eastern and central Europe's annual fish supplies by 6 July.
Campaigners are calling for ambitious reform of the EU's Common Fisheries Policy, which governs the fishing activities of the EU fleet, to ensure fisheries are more sustainably managed to prevent overfishing.
They are also calling for the EU to promote responsible consumption by EU consumers and to make sure fishing outside the bloc's waters is done more responsibly.
Ian Campbell, UK co-ordinator for Ocean2012, a coalition of organisations, said: "Fishing within sustainable levels and adapting fish consumption to available resources is the only way to regain healthy fishing grounds."
A spokeswoman for the Department of the Environment, Food and Rural Affairs said: "Overfishing has been a central failing of the current Common Fisheries Policy and the UK is adamant that the new CFP, which is currently under negotiation in Brussels, must ensure catches are set at a level that is sustainable.
"We will not be able to rebuild fish stocks without getting this right."
A representative of the Norwegian seafood industry says it faced problems in the 1980s similar to that highlighted by the NEF.
Johan Kvalheim, director of the Norwegian Seafood Council for UK and France, said: "Rather than focus on the negative we would like to highlight the transition our fisheries have been though...
"Our cod and haddock stocks in the Barents Sea were diminishing and we knew we would need to take immediate action to turn our fisheries management around."
This involved a ban on discarding fish and the development of a comprehensive programme of strict regulations and sanctions, he said.