Ecuador President Correa wants 'guarantee' over Assange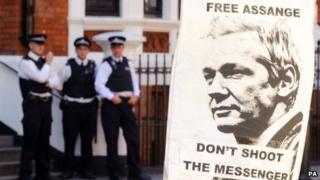 Ecuador's President Rafael Correa has used his weekly national address to state that he has sought assurances over Julian Assange's extradition.
Mr Correa said he wanted a guarantee from Britain and Sweden that there would be no subsequent extradition of Mr Assange to a third country.
Ecuador has granted asylum to the Wikileaks founder, who took refuge at Ecuador's embassy in London in June.
He faces extradition to Sweden over sexual assault claims, which he denies.
President Correa said: "We've never said that Julian Assange shouldn't answer to the Swedish justice system nor contribute to the investigation into these supposed crimes.
"What we have always asked for is a guarantee that there won't be a second extradition to a third country as that would put at risk Mr Assange's life and freedom."
According to BBC correspondent Will Grant, Mr Correa touched on a wide range of topics in Ecuador, particularly education, during his televised address of several hours.
But when he turned to the subject of Mr Assange, he called a letter from the British government over its claimed legal right to enter the Ecuadorian Embassy in London in some circumstances "intolerable" and "an explicit threat" which had to be rejected out of hand.
"Ecuador, in a sovereign fashion, decided to grant diplomatic asylum to Mr Julian Assange," he said.
"What sort of mentality is it that still doesn't realise Latin America is now sovereign and free?"
The president said if a South American nation had acted in the same way as Britain or Sweden, it would be dubbed a dictatorship.
Ecuador had described as a "threat" a UK letter that drew attention to the Diplomatic and Consular Premises Act 1987, which could allow it to potentially lift the embassy's diplomatic status to allow police to enter the building to arrest Mr Assange for breaching his bail terms.
The Foreign Office later said the letter had been sent to clarify "all aspects of British law that Ecuador should be aware of".
Britain's permanent observer to the Organization of American States, Philip Barton, said the UK would continue to work with Ecuador "to bring this matter to an amicable and successful conclusion".
The UK Foreign Office has said it will follow its obligations, under the Extradition Act, to arrest Mr Assange if he leaves the embassy.
On Sunday, the foreign ministers of the Union of South American Nations are due to gather in Ecuador's second city, Guayaquil, to discuss the diplomatic situation caused by the asylum decision.