School playing fields: 31 sales approved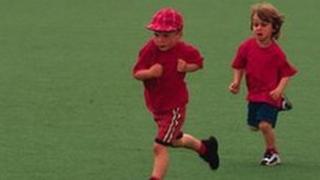 A total of 31 plans to sell off school playing fields in England have been approved by the coalition government since it came to power.
The figures were confirmed by the Department for Education after it apologised for giving out inaccurate information earlier this month - when the number was put at 21.
The Daily Telegraph reported that the true number was 30.
But officials now say there was one more, in Cornwall.
The government has been under pressure on the issue of playing fields since the Olympics, as sportspeople, politicians and others have been talking of the need to secure the legacy of the 2012 games by making sure there are facilities and opportunities to create the next generation of sporting heroes.
Last week a list was released of applications and the decisions taken, with officials saying in most cases, playing fields were being sold after schools had closed or been amalgamated with others.
On Friday 17 August, officials apologised for saying the total approved since May 2010 was 21, when it should have included nine more where applications had been made before the coalition came to power but approved afterwards.
Later, it said there was a 31st case - at Newquay Tretherras Academy in Cornwall - which had not needed to go through a panel which advises ministers on whether to approve sales of playing fields because the school owned the freehold of the land.
There is a local campaign against the sale of land from the school to Tesco. Local businessman David Nickels, told BBC News: "Once the land is concreted, it's gone forever.
"I have three daughters at the school and they have been asked to come up with ideas of how to spend the money from the sale of school facilities.
"However, there has been no consultation with the public and even MPs and the local council are against it. We are feeling very disheartened."
The school governors say the funds raised by the sale will help to rebuild the school and make it fit for the 21st century - and that there will be a full consultation in the autumn. It became an academy in April 2011.
Overruled
The Telegraph said ministers had overruled advisers on the playing fields panel five times in the past 15 months and approved sales.
The government has confirmed the schools were Woodhouse Middle School in Staffordshire, Clarborough Primary School in Nottinghamshire, Elliott School in Wandsworth, London, Ingleton Middle School in North Yorkshire and Netley Primary School in Camden, London.
Staffordshire County Council says the land sold at Woodhouse Middle School was on a slope, was not used for school sport and that the school still has big playing fields.
The land is being sold to the town council and will be used as a cemetery, officials say.
Another of the cases involves Ingleton Middle School and North Yorkshire County Council says that school has closed.
There is a campaign to stop the selling of land at Elliott School in Wandsworth to pay for renovations which were originally planned under the cancelled Building Schools for the Future scheme.
Campaigners say six tennis courts, a football pitch and the main playground will go in a deal with housing developers.
Wandsworth Council says it will cost up to £30 million to bring the school up to an acceptable standard and that the school's sports facilities will be enhanced under the plans.
In the case of Netley in Camden, the government said it approved the application after the leader of the council made an appeal for it to do so. Proceeds from the sale would be used to improve the school's facilities and develop a nearby unit for vulnerable children.
A Department for Education spokeswoman said: "Decisions to dispose of playing fields are hard. In each and every case we have one question in mind - what is best for pupils' education and their wider school life? That is all that matters.
"Sometimes that means making decisions that some will disagree with but we stand by those decisions."
Labour claims an estimated 10,000 playing fields were disposed of between 1979 and 1997 when the Conservatives were in power, but according to the BBC's More or Less programme, "no one really knows the true figure because nobody counted".
Programme presenter Tim Harford says until five years ago, the estimate was that 5,000 playing fields had been sold in that time. He added that 3,000 schools had closed between 1979 and 1997 so some playing fields would have been sold because of that.
Some 213 playing fields were approved for sale between 1999 and April 2010 under Labour, DfE figures show.
'Come clean'
Shadow education secretary Stephen Twigg said Mr Gove appeared to have "failed to disclose at least another 10 school playing field sell-offs" which was "misleading and incompetent at the very least".
"Michael Gove must now come clean and explain what appears to be a secret programme to sell off school playing fields," he added.
He has written to the most senior civil servant in the DfE, Chris Wormald, asking him to "release all submissions and correspondence regarding these disposals".
Earlier this week, critics warned that new rules on outdoor space for pupils in England to do PE would make it easier for secondary schools to sell playing fields.
Schools previously had to provide pitches ranging from 5,000 sq m to 54,000 sq m, depending on the number of pupils, but must now provide only "suitable outdoor space".
The DfE said its "extremely strict rules" on playing fields were still in place.
Officials said sales had only been approved "if the school has closed, has merged or if equal or better facilities are being put in their place".
Schools where approval has been grantedfor applications made after May 2010 - details as released by the government on 8 August 2012
Michael Drayton School in Hampshire is still under consideration.