UK judge says 'forced marriage' of disabled woman should be annulled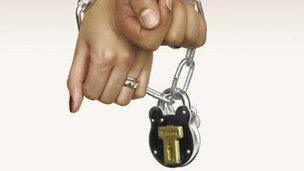 A judge has said the arranged marriage of a UK woman of Bangladeshi origin, who is disabled and has severe learning difficulties, should be annulled.
Mrs Justice Parker ruled that the woman clearly lacked the mental capacity to consent to marriage and it should be a "nullity" in England.
The judge rejected the family's argument that the marriage was in the woman's best interests.
The marriage in Bangladesh allowed the woman's husband to settle in the UK.
The woman, whose identity is not being made public, is unable to perform basic daily tasks and has learning difficulties which are described as very significant.
In 2003, the woman's parents arranged for her to marry a cousin in Bangladesh who was subsequently given permission to come and live with her in the UK.
Police intervened when the marriage came to the attention of the local authorities.
In the latest ruling, the judge said the marriage should be annulled.
The parents argued that they were trying to give their daughter security by finding her a husband, and that annulling the marriage would bring shame on their family.
The ruling comes as the authorities in the UK are taking steps to tackle a rise in the number of forced marriages involving people with learning disabilities.
More than 50 such cases were referred to the Foreign Office and Home Office's specialist Forced Marriage Unit last year.
Last week local councils in England introduced measures to try to tackle the problem.
They issued guidelines for social workers and other staff to raise awareness and spot potential victims.
It is unlawful to give permission for a marriage on behalf of a person if they cannot consent themselves.
The Forced Marriage Unit said it was dealing with a "growing number of referrals" involving such people.
Related Internet Links
The BBC is not responsible for the content of external sites.