Paralympic Games: Thousands more tickets on sale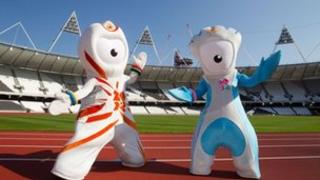 Paralympics organisers have put 45,000 more tickets on sale in addition to the 20,000 already available for the opening and closing ceremonies.
Most are for athletics, but they are also for events including cycling, equestrian and wheelchair basketball.
Some 2.2 million Paralympics tickets have been sold so far, with 2.5 million expected to be made available in total.
Games organiser Locog said public enthusiasm for the Paralympics reflected that for the Olympics.
Locog chairman Lord Coe said: "After the nation took the Olympic Games and Team GB to their hearts in such a spectacular way, it is no surprise that they look set to do the same for ParalympicsGB and the Paralympic Games.
"We are working flat out to stage a memorable Paralympic Games and I'm delighted that the enthusiasm and support for our Games from the UK shows no sign of wavering."
BBC sport correspondent James Pearce said the website was now running as slowly as it was for Olympics tickets, indicating high demand. He predicted these would be the first Paralympics to sell out.
There are 25,000 tickets on sale for athletics, priced between £10 and £45, and fewer numbers for wheelchair basketball, track cycling, equestrian and rowing. They are available from the London 2012 ticket website.
Locog said further tickets would become available as seating plans for the venues were finalised.
Some 100,000 tickets are set to be released during the Games itself on a session by session basis.
There are four types of ticket for the Paralympics:
Reserved - for a specific seat for athletics, track cycling, swimming and medal events in some other sports
General admission - any seat for other Olympic Park sports plus rowing, equestrian, road cycling, events at the ExCeL arena, archery, shooting and wheelchair basketball. Some finals are excluded
Olympic Park day pass - access to sports including goalball, wheelchair basketball, wheelchair rugby, wheelchair tennis and football
ExCeL day pass - access to table tennis, judo, sitting volleyball, wheelchair fencing, powerlifting and boccia at the ExCeL arena
Locog commercial director Chris Townsend said: "Many people visiting the Paralympic Games will be experiencing these sports for the first time so we wanted to provide a broad experience for spectators.
"The day passes will allow people to dip in and out of sports and experience a range of sports in one day. We expect that this will mean at various points throughout the day venues will appear to have empty seats, but this won't mean tickets haven't been sold or people haven't turned up. At some point during the day we anticipate all seats will be used."