'I was walking around thinking I was a ghost'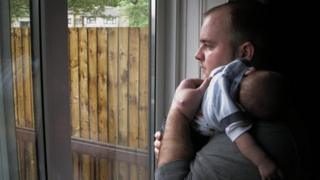 Experiencing a horrific crime can be hugely traumatic, as survivors of some of the most shocking attacks in recent memory told BBC Crimewatch.
Pte Marc Fitzpatrick was one of a group of soldiers taking delivery of a pizza - a final home comfort before they flew to Afghanistan - when they were attacked by the Real IRA.
Two of them - Pte Patrick Azimkar and Pte Mark Quinsey, from 25 Field Squadron, 38 Engineer Regiment - died at the scene of the attack just outside their barracks in the town of Antrim, Northern Ireland.
Four others survived but were left seriously injured, including Pte Fitzpatrick, who has been struggling to come to terms with what happened ever since. After the shooting, he was discharged from the Army on medical grounds.
"After I got shot, I put on four stone [25kg]. I've had kidney problems, stomach problems, I just lost all control of myself," he says.
But when he returned to his hometown in South Wales, it was the mental trauma he found hardest to deal with.
"I was walking around thinking I was a ghost for the first year or two. I just didn't think I was alive."
"It wasn't so much the physical stuff, it was the mental side of it - why did I survive? Why me? Why not one of the others?"
More than three years on, memories of the attack are still raw and painful for Mr Fitzpatrick.
"Obviously I was expecting maybe to get shot in war or something like that, but it was such a mad experience. It still hasn't sunk in to be honest.
"It made me not want to die alone," he adds.
A year after the shooting, Mr Fitzpatrick met his partner, Sophie, and this year the couple had their first child. He is still haunted by the experience, but says fatherhood is helping to keep his mind focused on other things.
Sleepless nights
A desire to return to some kind of normality is common with survivors of traumatic crimes.
Terry Kennedy went back to work nine months after losing his hand when he was shot by his former colleague Derrick Bird.
"It just keeps coming back to you," Mr Kennedy says. "Sometimes you just don't sleep at all, other times you'll go to sleep and you won't wake up, it can work both ways. It's as if your brain is saying, 'Don't wake up, you don't have to think about it.'"
Derrick Bird killed 12 people and left 11 injured as he drove around the streets of West Cumbria firing a gun at random in June 2010 before shooting himself.
Mr Kennedy and Bird worked on the same taxi ranks for several years, and they'd often go out for drinks or on fishing trips together. Mr Kennedy felt he knew Bird well, and struggles to make sense of what happened.
"On a normal day he wouldn't have done it. It's just something triggered in his head and he just wasn't him again. But we've all got that demon somewhere, we just need somewhere to fire it off, don't we?"
Two years on from the shootings, Mr Kennedy says he doesn't blame Bird for what he did - despite being one of his victims. He now even makes light of the event when people bring it up.
"Kids are always asking me what happened, they're more interested. I told some of them that it was because I was naughty when I was a child. I didn't do what my mammy said so my arm fell off. I think they're behaving themselves now those kids."
'Total nightmare'
For many survivors, overcoming their ordeal is made more difficult by the media attention surrounding them.
Denise Fergus, the mother of James Bulger - the toddler brutally murdered by two 10-year-olds in 1992 - says the media interest in her son's death made it difficult for her to grieve.
"In the beginning I refused to go outside the door. I locked myself into the bedroom. I had cameras shoved in my face," she says.
"It just feels like you're living in a total nightmare. You just want to grieve and be by yourself. You don't want the world to see how you're looking."
Ms Fergus says she also had to stay strong for her other son, Michael.
"What really got me through it was, after the dark days I found out I was pregnant with Michael. The dark days were still there but I had something inside me that I had to live for. I needed this baby and this baby needed me.
"I had to be there for him. I didn't want anything rubbed off onto him. So really, I don't think I have ever grieved, I've just had to push my way through it."
James's killers - Jon Venables and Robert Thompson - were sentenced to eight years in custody, until they reached adulthood. They were released in 2001 and placed under a witness-protection-style programme, which saw them given new identities.
Since James's death, Ms Fergus has campaigned tirelessly for her son's killers to remain in prison. After almost 20 years of battling with the legal system, she says she has now reached a turning point.
"All the fighting and campaigning I've done over the years, I've never got anywhere with it. Once I realised that I wasn't going to get that justice I realised that I've got to do something nice in his name," she says
She recently set up Justice For James - a charity offering disadvantaged children a free holiday.
"It did give me a huge buzz because I thought, at last, I've done something in his name. He's not just a memory anymore."
Caught In The Crossfire, a Crimewatch special, is broadcast on Thursday 23 August at 21:00 BST on BBC One.