Police commissioners: Candidates want mailshots funding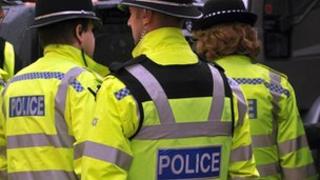 Some candidates in the elections for police and crime commissioners in England and Wales are calling for a state-funded mailshot to all voters.
Independent candidates say the polls will be unfairly weighted in favour of political rivals because information is not going to every voter.
A group of independent hopefuls has handed in a protest letter to No 10.
The Home Office said details about candidates would go online and be delivered to those who wanted them.
Information about candidates is posted to every household during parliamentary, mayoral and European elections in the UK, but this will not be the case in the elections of police and crime commissioners.
The first elections for the posts will take place in 41 regions on 15 November.
The commissioners will replace police authorities, with the power to determine budgets and hire and fire chief constables.
'Perverse and undemocratic'
The government says elected commissioners will be more publicly accountable.
Ann Barnes, an independent candidate in Kent, said: "It's quite perverse because we have the prime minister, the policing minister and the home secretary on record saying they want highly visible, strongly credible independent candidates to stand.
"And yet they will not give them the one thing... that will help them get their message out to voters. It's perverse, it's undemocratic and it's really unjust."
She said that without a state-funded mailshot those representing political parties had an unfair advantage because they had more money and resources to run their campaigns.
Mrs Barnes has handed in a letter of protest at Downing Street on behalf of a number of independent contenders.
The Electoral Commission, which scrutinises the running of elections, warned earlier this year that seven million voters who do not use the internet could be denied information.
Policing Minister Nick Herbert said the £25m-35m cost of the mailshot was not justifiable in the current climate.
Information about the website, which will be promoted on polling cards, will cost £100,000, while £2m has been budgeted for leaflets.
Mr Herbert said: "It's wrong to believe success or failure for an independent candidate depends on one thing, whether they get a free election address.
"Surely there is the local media, surely there is the meetings they have to capture public attention, surely there is new media."
'Minor' crime
The number of independent candidates is not yet known as formal nominations do not open until 8 October.
A nomination for a candidate will need to be signed by 100 people registered to vote in the police force area where the candidate is standing.
Meanwhile, a candidate who had withdrawn because he had committed a "minor" criminal offence as a juvenile has been reinstated as Labour's candidate in Derbyshire.
Alan Charles, vice-chairman of the region's police authority, said existing rules barred him from standing for the post because he had received a conditional discharge nearly 50 years ago, when he was 14.
A statement from the party said it had sought legal advice on behalf of Mr Charles due to a "lack of clarity" from the Home Office and it had "become clear that he is eligible".
It is understood that the legal advice centred on the fact that Mr Charles had been given a conditional discharge for an offence committed as a juvenile.
Lawyers said that the ban on candidates who had been convicted of an imprisonable offence did not apply to those - like Mr Charles - who had received a conditional discharge, one of the lowest sanctions available.
The Association of Police and Crime Commissioners has urged ministers to reconsider the rules so juvenile convictions could not be used to bar candidates from standing.