How London 2012 inspired me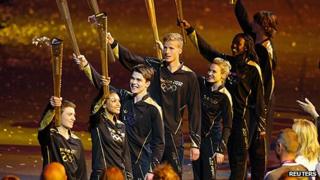 The London 2012 Olympic motto is "inspire a generation". Britain's Mo Farah says he is sure "there are youngsters out there who have seen us and want to become an athlete".
Here, BBC News website readers explain how London 2012 has encouraged and inspired them to take up sport.
Mike Williams, 34, Maidstone, Kent
I have taken up cycling again after about 20 years, after watching the inspirational 2012 Tour de France and Olympics.
After seeing Bradley Wiggins, Mark Cavendish and Sir Chris Hoy's performances, I decided to get out there and get cycling again - and I love it.
It has even pushed me further to organise an 11-day cycle for charity in France next year. I am hoping to do it for a Parkinson's charity as my grandfather has Parkinson's.
I have got my friends, my neighbour and my brother to sign up for it too, so I am pushing others to get on board too so we can inspire each other.
The Olympics has managed to inspire a lot of people. I was lucky enough to go to see the athletics on Wednesday, and after seeing these athletes, I want to challenge myself now.
The whole of Team GB has also inspired me to get out there, which is why I went out and bought a bike.
It will hopefully improve my lifestyle too and it should save me money on petrol.
It should also help me to keep fit, which, as a police officer can only benefit me in my job. So it has massive benefits all round.
Princess Souassou, 21, East London
The Olympics have inspired me to get involved in swimming. I can't wait to start again.
I was inspired by all the swimmers from different countries. Michael Phelps was particularly impressive.
I had done a little swimming at school but it wasn't really encouraged.
There are free lessons run by the local council so I'm going to sign up for them with a friend. I just want to keep healthy.
I hope the Olympics will continue to inspire people and the effect won't die down.
When London won the bid they said they would encourage more children to take up sports and I don't think that really happened. I hope it does happen now.
It was an impressive Games - especially because of the number of medals won by Team GB.
Mark Moore, 39, Lincolnshire
In July my family went on holiday to the Peak District. We watched the Olympics while we were away and my 12-year-old son Jacob and eight-year-old daughter India wanted to try kayaking.
Fortunately we found a great watersports centre near us. It's a fun thing we could all do together as a family.
Now we are home, my son is hooked and we contacted a local watersports centre to take up this sport.
He has already done a trial session, trying out some technical moves like capsizing. He's starting a certified course in September. They'll go on trips during the year to proper slalom places and there's the chance for the family to come with him.
Being a parent you try to get your kids into sports, but this is something he wanted to do himself.
If we hadn't been watching the Olympics as a family he might not have got into it. The Games are a unique window onto sports for young people.
I love sports and it's something we watch as a family. My one regret is not having made an effort to buy tickets.
Lucy Appleby, 56, London
After watching the shooting and the rowing, I have been inspired to try to take up these sports after the Olympics.
I have emailed three shooting clubs and am waiting to hear back from them and have also contacted a local rowing club.
My 18-year-old daughter has also been inspired to take up rowing and she hopes to do so when she goes to university in Edinburgh.
I don't consider myself a sporty person, but I want to try these sports after watching them on TV in these Olympics.
I have never tried them before, but want to do so now.
We have been watching TV all day throughout the Games and I've been amazed at how riveting I've found it all.
It has all been absolutely inspirational, from the Olympic athletes to the excellent TV coverage.
My daughter and I were also lucky to go to the women's football final, which was fantastic. It's been a great experience.
The London 2012 Olympic motto is "inspire a generation" - and if the Team GB winners are anything to go by, it's a motto worth its weight in gold.
Interviews by Stephen Fottrell and Nathan Williams.