Newspaper review: Papers reflect on golden Olympics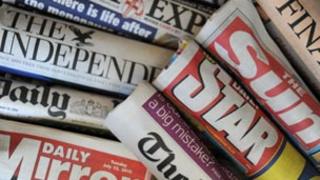 With the Olympic flame finally extinguished, how did it all go?
The Daily Telegraph says it was "two weeks of unbelievable spectacle that surpassed our wildest dreams".
"Well, he did it," writes Steve Ovett in the Daily Mirror. "My old rival, Seb Coe, delivered an Olympic Games to make the whole country proud."
The Daily Express says "it was ordinary British people who turned London 2012 into an unprecedented spectacle with their generosity and support".
Stadium picture
According to the Sun, the Olympics were "two weeks which will burn brightly forever in our history".
Peter Wilson, Europe correspondent of The Australian newspaper, writes in the Times that London has knocked Sydney off its pedestal as the best host of a modern Olympics.
However, he claims one of the reasons is Australians were flown in by the planeload to help plan and run things.
"What a finale!" says the Daily Mail over an aerial shot of a full stadium.
Royal role
The Mail also says Prince Harry representing the Queen at Sunday's closing ceremony was a surprising move.
It is his most important solo royal engagement yet and launches him into a new leading role in the Royal Family, the paper says.
The Guardian's Zoe Williams notes that the closing show included "a homage to our favourite dead performers".
"That's what these games have done for our optimism," she writes, "brought it back from the dead".
Darts tributes
In other news, the Daily Mail says proposals to let shops open longer on Sundays are reigniting tensions within the coalition.
According to the Daily Express, Whitehall sources have indicated that Prime Minister David Cameron will "veer to the right" in a cabinet reshuffle.
And there are tributes to darts commentator Sid Waddell who has died at the age of 72.
The Daily Mirror calls him "a double top bloke".