Sid Waddell, the voice of darts, dies aged 72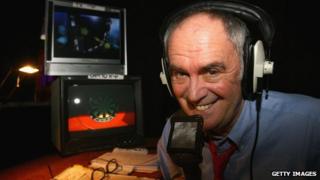 Darts commentator Sid Waddell has died at the age of 72, his manager has said.
Waddell, who had been suffering from bowel cancer since last September, became known as the voice of darts for his commentary over many years on the BBC and Sky.
In a statement, his manager Dick Allix said he "died peacefully with all his family around him late last night".
The son of a Northumberland miner, he also wrote BBC children's programmes Jossy's Giants and Sloggers.
He received a nomination for best scriptwriter from the Writer's Guild of Great Britain for the latter.
'Magic darts'
The broadcaster was known for his colourful and excitable commentary style.
"There's only one word for it - 'magic darts'," was one of his famous lines and he also described the challenge of a player trying to defeat multiple world champion Phil Taylor as "like eating candy floss in a wind tunnel".
Born in Alnwick, he attended Morpeth Grammar School and gained a degree at Cambridge University before working in the media.
In 1999 he was the "Voice of the Balls" on BBC One's National Lottery Red Alert on one occasion before he claimed he was sacked for being "too Geordie".
Bobby George, who twice appeared in the British Darts Organisation World Championship final, wrote on Twitter: "So sad to hear of the passing of the legend Sid Waddell or Sidly as I used to call him. Sincere condolences go out to the family x."
Three-time world champion John Lowe said: "Darts has lost its champion of the commentary box, Sid Waddell, sincere condolences to his family, good bye dear friend."
Sky Sports' Dave Clark, who worked with Waddell for many years, described him as "a brilliant man, a genius of the microphone".
'Totally irreplaceable'
He said: "He had a child-like exuberance, he'd be bouncing round like a young puppy in the commentary box, and mix that with the intellect of Einstein."
Another colleague, Jeff Stelling, said: "Back when I was working with him he made more of an impact than any of the players did.
"He is totally irreplaceable."
BBC Sport's Gary Lineker wrote on Twitter: "He really was the voice of his sport. A brilliant, witty, colourful commentator."
Tributes extended beyond the world of darts, with former deputy prime minister John Prescott tweeting: "Farewell to Sid Waddell - a man who did so much for darts and voiced so many memorable moments.
"A double top bloke."
Milburn Douglas, a councillor for Lynemouth, the Northumberland mining village where Waddell grew up, said the commentator remembered his roots.
He said: "With the darts, that's where he made a name for himself, but he never forgot where he came from, he came from a mining community and he was very proud of that."