Bad weather set to increase bread price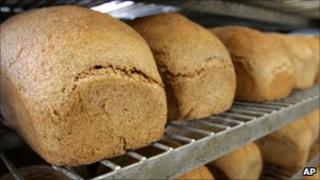 Wet weather in Britain and a drought in North America are expected to push up the cost of bread, say experts.
The Grocer magazine says wheat prices have risen by a third in a month in both London and Paris.
It blamed droughts which have badly damaged maize crops in the US, causing a rise in demand for wheat.
Alex Waugh, director general of the National Association of British and Irish Millers, also said: "There are real concerns about the UK crop."
He told the BBC: "There has been a very, very wet June and July and a lack of sunshine.
"The disease pressure on crops is very high and that will have an effect on quality, especially with mildew and other fungal infections."
Mr Waugh said the poorer quality wheat might end up as animal feed but the price of scarcer good quality wheat would inevitably rise, pushing up bread prices.
He said the harvest, which usually started at the end of July, was a couple of weeks late and he said a clearer picture would emerge by the end of August or at least by mid-September.
Hovis has admitted it is concerned as it is using only British wheat, while rivals Warburtons use Canadian wheat, which has been less affected.
Michael Clarke, chief executive of Hovis baker Premier Foods, said: "The sheer magnitude of the wheat price increases means that we will have to pass them on."