Litvinenko inquest: Judge appointed to oversee inquest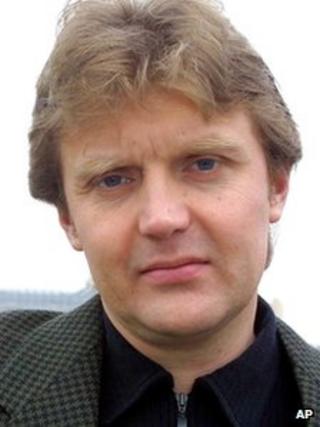 A High Court judge has been appointed to hold the inquest into the death of Russian spy Alexander Litvinenko, who was poisoned in London in 2006.
Mr Litvinenko, 43, is thought to have been poisoned with radioactive polonium-210 after having tea with two Russians at a hotel in November 2006.
Former KGB agents Andrei Lugovoi and Dmitry Kovtun returned to Moscow.
High Court Judge Sir Robert Owen will hold a pre-inquest review in public on 20 September.
Sir Robert, who has been appointed an Assistant Deputy Coroner, wants to hold the review so he can give "directions as to the conduct of the inquest".
Earlier this year the justice secretary wrote to Deputy Coroner Dr Shirley Radcliffe, who was then in charge of the inquest, to ask for clarification about the estimated £4m costs of the inquest.
The death of Mr Litvinenko, a Russian security officer living in London, led to a major diplomatic incident as the Kremlin was accused of masterminding his murder.
British prosecutors named Mr Lugovoi as the main suspect but he was later elected as a Russian MP and Moscow refused to send him to the UK for questioning. He has denied involvement.
Prime Minister David Cameron raised the issue with Russian President Vladimir Putin recently during his visit to London.
At the time Mr Cameron said: "There has been no softening in our stance on the Litvinenko case.
"I have raised it with President Putin and it stands between Britain and Russia but I do not think it should mean we do not try to get on with the rest of our relationship."