Why Australia fell at the London Olympics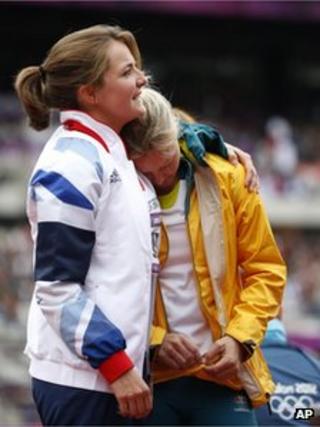 Is Australia the victim of a great Olympics betrayal?
As a proud sporting nation sifts through the ashes of a below-par showing so far in London, swimming bosses have announced a review of the team's performance in the pool and there are now questions about how to stop the poaching of Australian coaches by overseas competitors.
From rowing to cycling, and swimming to the triathlon, some of Australia's smartest tacticians have been recruited by rival nations to boost their medal tally at the 2012 Olympics.
"How [the] world stole the brains behind Australian sport", blares a headline in Sydney's Daily Telegraph, which notes that "Australian coaches are giving Australians black eyes all over London".
Shaun Stephens, Australia's head triathlon coach, says money and better career opportunities abroad are largely responsible.
"Sport is a major industry these days and not too different to any other competitive industry where top companies fight to attract the best talent in the world," he argues.
School sport decline
Australia has finished at least sixth in the medal table at the last three Olympics but it is unlikely to reach those heights in London.
There is a concern that its training regimes and funding will continue to be surpassed by its opponents, which have lured some of its brightest sporting minds.
"We have to accept that around the world things are different," says Matt Favier, the head of the Australian Institute of Sport, which was founded after the Aussies failed to win a gold medal at the Montreal Olympics in 1976.
"It's more competitive now than it's ever been."
The head of the Australian Olympic Committee, John Coates, believes that a long-term approach is now needed to restore his country's elite sporting reputation.
He wants more effort and money put into schools in the hope of unearthing more gems with the pedigree of swimming legend Ian Thorpe and sprint queen Cathy Freeman.
"Unfortunately it's taken the debacle at London to really highlight the decline of school sport in the Australian educational system," explains Dr Steve Georgakis, a senior lecturer in Pedagogy and Sports Studies at the University of Sydney.
"I've been quite critical of John Coates in the past but he's spot on here."
In the meantime, Mr Coates is in damage control and is urging a frustrated nation to be patient.
"You're entitled to your disappointment," he told his fellow countrymen and women.
"I hope you'll continue to be proud of these fine young Australians who are representing you but I'm disappointed in the total picture at the moment.
"We were hoping for a top five [finish], which we'd need to do something equivalent to Beijing, which would be 45 medals [or] something like that. We won't get there."
Eyes on Glasgow
Despite the gloom, the government in Canberra insists there is no reason to panic.
"What we're seeing at the Olympics at the moment is that we're coming so close so many times," said Sports Minister Kate Lundy.
"It is a millimetre or a millisecond and it's just not going our way. I don't think that diminishes the achievements of our silver medallists. They are on the podium. We are still way up there with the best of the best in the world in sport."
Many of the athletes who competed in the green and gold kit feel the same, and believe that criticism of them in London is unfair.
"[It is] a little bit hurtful when people say we have been underperforming because we pour our heart and soul into every single performance," explains Cate Campbell, a member of the victorious women's 4x100m freestyle relay team.
"It is just that the world has stepped up and they have just reined us in, and hopefully we will just be doing the reining in next time and that's just the way it goes. It goes in waves."
Swimming Australia is already charting its journey back to glory and wants the Commonwealth Games in Glasgow in two years to be the start of a great comeback.